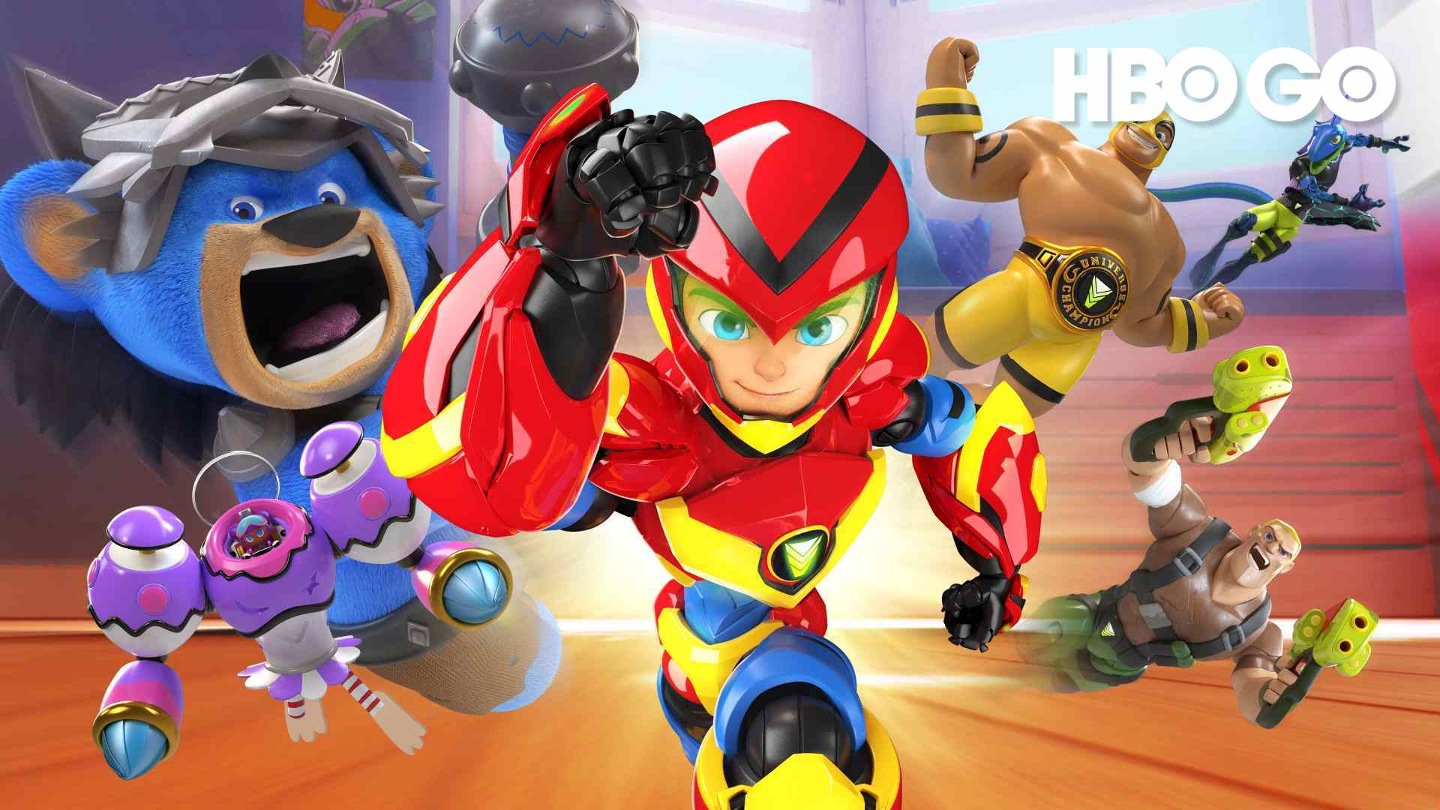 Axel and the Power Players are bored: they haven't been attacked by bad toys in weeks. Worried, they decide to go to Madcap's lair�
更多
E1

能量戰士(第2季第1集)

Axel and the Power Players are bored: they haven't been attacked by bad toys in weeks. Worried, they decide to go to ...

E2

能量戰士(第2季第2集)

While a powerless Axel watches, a musical challenge pits Galileo against Sarge Charge. Porcupunk shows up with his gu...

E3

能量戰士(第2季第3集)

While Axel is staying up all night with his friends Zoe and Luka, Madcap and his henchmen break into the house. The b...

E4

能量戰士(第2季第4集)

When a seam comes undone on Bearbarian's back, it iches terribly. With nothing and no one to help, the teddy bear dec...

E5

能量戰士(第2季第5集)

Madcap has created a new weapon to remove the Minergy from living toys... leaving them helpless! And now he's coming ...

E6

能量戰士(第2季第6集)

Uncle Andrew finds the Power Players and Axel in the house... but doesn't react. What's wrong with Uncle Andrew? The ...

E7

能量戰士(第2季第7集)

Thinking Axel will be excited, Slobot turns himself into a robot-dog… but starts acting like a crazy puppy, running...

E8

能量戰士(第2季第8集)

Madcap comes to find Joyride and hires him for a special mission… seizing Axel's Power Bandz! Will Joyride betray...

E9

能量戰士(第2季第9集)

A toy Sarge Charge doppelganger introduces himself to our friends and suggests they go and challenge Madcap. But what...

E10

能量戰士(第2季第10集)

The Power Players are captured by Ruffin the toy thief. Axel gathers a new team to go and free them. Will the new Pow...

E11

能量戰士(第2季第11集)

Ruffin the toy thief has stolen Luka's teddy bears and sold them at a yard sale! The Power Players wait for the nig...

E12

能量戰士(第2季第12集)

Eager to pick the toy his uncle will give him if he helps him with a charity sale, an impatient Axel goes down to the...

E13

能量戰士(第2季第13集)

When Masko's rubber skin breaks, he starts losing the liquid that makes him elastic

E14

能量戰士(第2季第14集)

阿賽爾和馬小可一直找不到野蠻熊人,安澤叔叔卻急著要阿賽爾幫忙摘番茄。就在阿賽爾...

E15

能量戰士(第2季第15集)

阿賽爾跟若依還有盧卡在公園玩,但阿賽爾總是耍些小動作獲勝,這讓他的朋友不是很高...

E16

能量戰士(第2季第16集)

阿賽爾在收拾房間的時候,大怒頭跑來搗亂,這次超能腕帶發動的時候,意外讓機動阿賽...

E17

能量戰士(第2季第17集)

阿賽爾發現之前被擊倒的突擊軍士現在成了壞玩具們新老大,而且正在策畫一項邪惡計畫...

E18

能量戰士(第2季第18集)

阿賽爾正熱衷於一款AR遊戲,但沒想到那款遊戲裡的一群搗蛋鬼因為被大怒頭的微能源喚...

E19

能量戰士(第2季第19集)

衝鋒中士被人突然從後方攻擊,他新拿到的微能源追蹤望遠鏡也不翼而飛。阿賽爾開始列...

E20

能量戰士(第2季第20集)

盧卡的酷炫新玩具卡欽俠A,吸引了阿賽爾以及大怒頭的目光。阿賽爾既羨慕又想玩,而...

E21

能量戰士(第2季第21集)

Galileo won't stop filming himself for his fans. Axel reminds him of all the times this lack of attention caused harm...

E22

能量戰士(第2季第22集)

Porcupunk and Dynamo have gotten their hands on Axel's phone, on which he has filmed himself transforming into a toy!...

E23

能量戰士(第2季第23集)

Joyride wishes to join the Power Players, but they're very busy playing with a remote-controlled car. Which doesn...

E24

能量戰士(第2季第24集)

Axel is sick of being the nice, enthusiastic little boy that everyone likes. He dreams of being an unsung hero, cold ...

E25

能量戰士(第2季第25集)

While Axel dreams of being bigger so people take him seriously, Madcap designs a giant body for himself that gives hi...

E26

能量戰士(第2季第26集)

Action Axel will try everything to defeat the now giant and super powerful Madcap... What if he asked for Uncle Andre...