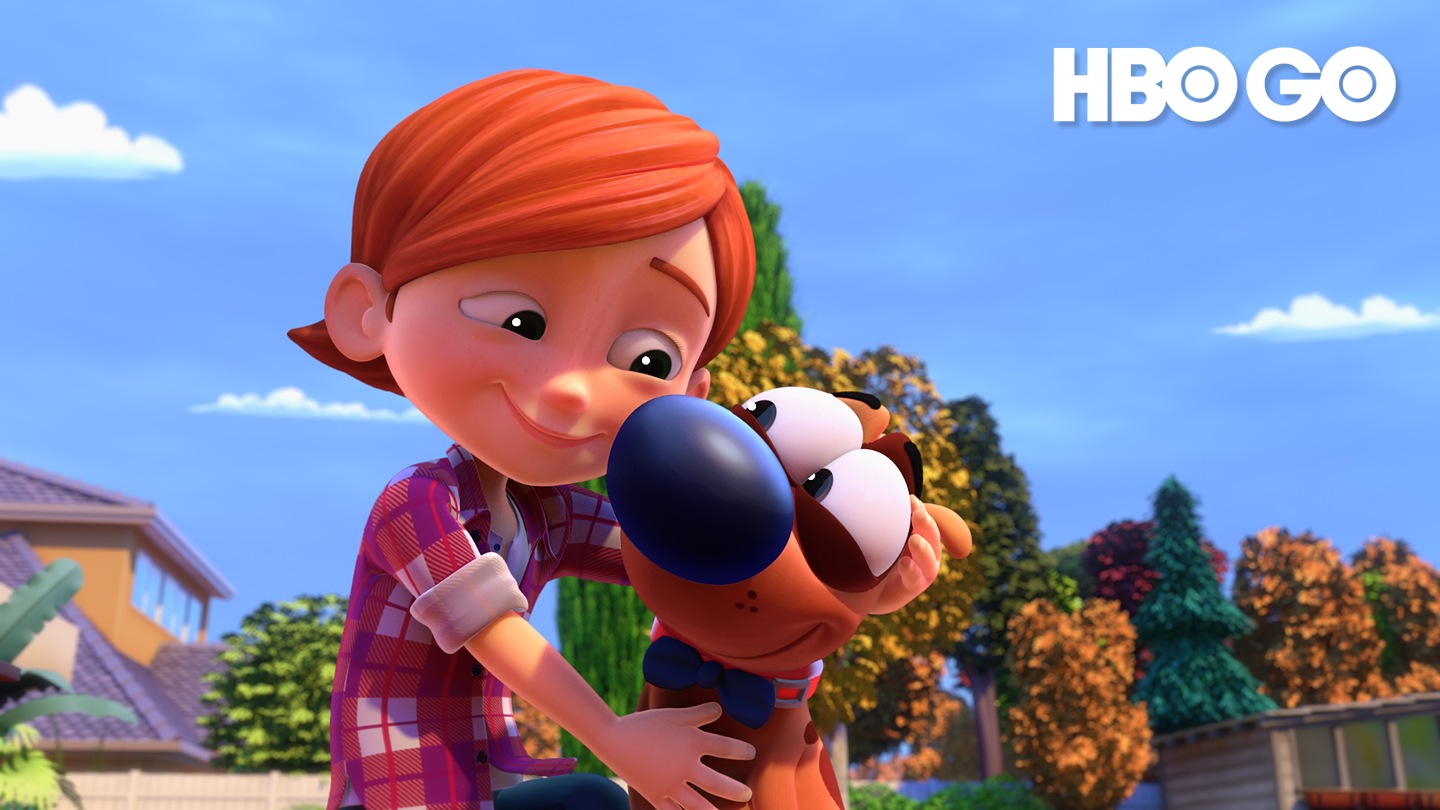 Lola's father has just received a collector's issue of his fave comic book. Marcus is going to devise a strategy to get his hands on it. Pat is going to have it out with Squizel in order to get it back.
更多
E1

PAT THE DOG S2 01: COLLECTOR

Lola's father has just received a collector's issue of his fave comic book. Marcus is going to devise a strategy...

E2

PAT THE DOG S2 02: SUPERBOWL

Victor challenges Lola to a bowling game and has decided he is going to cheat. Pat is on to his tricks and is going ...

E3

PAT THE DOG S2 03: BLUNDER BUS

The Guanos want to steal Lola's TV. In order to sidetrack Pat, they convince him that Lola and Victor are in a ......

E4

PAT THE DOG S2 04: HOW PUZZLING

Lola and her father finish a puzzle they are going to offer mommy for mother's day, but there is a piece missing. ...

E5

PAT THE DOG S2 05: CAKE ME HAPPY

Honorine and Pompom stop by to see Lola. Honorine offers to bake a cake but she can't find her glasses and starts ...

E6

PAT THE DOG S2 06: THE SANDWICH

During a picnic, the Guanos sneak off with Lola's sandwich and replace it with one that is rotten. Lola thinks tha...

E7

PAT THE DOG S2 07: GUANOS AND JULIET

Lola stumbles on Juliette, a doll she had as a little girl. She and Pat used to play with it together. She gives it...

E8

PAT THE DOG S2 08: TANK GETS THE BLUES

Tank is depressed. Pat realizes that Tank's teddy bear is the victim of a well-organized kidnapping scheme by the ...

E9

PAT THE DOG S2 09: DAY AT THE MUSEUM

Lola is helping her mother out at a volunteer exhibit at the local museum. She is supposed to be keeping an eye on t...

E10

PAT THE DOG S2 10: 3 BIRDS AND A BASKET

Lola is babysitting Pompom who is sleeping in his trendy new kitty basket. Pompom escapes from the basket. Hoodie m...

E11

PAT THE DOG S2 11: THE MEDAL

Lola and Pat win a medal during a contest. Victor is sad that he hasn't won one so Lola decides to help him. The ...

E12

PAT THE DOG S2 12: INSEPARABLE

Pat has to keep an eye on Hoodie who is in the yard with Victor. The Guanos are going to try and kidnap him. Pat tr...

E13

PAT THE DOG S2 13: SUMMERSAULTS UNDER THE STARS

Lola is so obsessed by the gymnastic routine she has to perform at school that she goes sleepwalking one night. Pat ...

E14

PAT THE DOG S2 14: WITHOUT A SOUND

Lola needs a good night's sleep to be in shape for her class presentation the next day. Pat must make sure that no...

E16

PAT THE DOG S2 16: SIT, STAND, HEEL

For a pet talent contest, Victor shows off Tank's talents as a dancer using a beat box. The Guanos, who realize th...

E17

PAT THE DOG S2 17: KUNG-FU HAMSTER

Inspired by a comic book he has seen, Pompom becomes a Kung-Fu master. Pat has to stop him before he destroys everyt...

E18

PAT THE DOG S2 18: THE FLYING PAGE

While Lola is trying to get a peek at the last page of her father's new comic book, it goes flying out the window. ...

E19

PAT THE DOG S2 19: GUANOZILLA

Pat has to stop the Guanos from inviting catastrophe after they have stolen Lola and Victor's chemistry set. He is...

E20

PAT THE DOG S2 20: THE FERRET SITTER

So that he can steal Lola's piggy bank, Marcus asks her if she can look after his ferret, who is actually Squizel i...

E21

PAT THE DOG S2 21: THE AUTOMATED HOUSE

The Guanos steal the TV remote control, thus locking Lola and Pat outside (where they ran to get it). Coast is clear...

E23

PAT THE DOG S2 23: SPECIAL DELIVERY

A delivery boy has mistakenly taken a package for Lola and Pat is going to have to recover it before it gets sent...

E24

PAT THE DOG S2 24: TANK GETS AMNESIA

Victor asks Lola to look after Tank for the day. Because of the Guanos, Tank runs headfirst into a cabinet and the i...

E25

PAT THE DOG S2 25: GUANO SCOOTER

Lola helps Hugo learn how to ride a scooter. But the Guanos, drawn to the horn in the shape of a pigeon, and that th...

E26

PAT THE DOG S2 26: REDUCING YOUR PAWPRINT

Lola is going to be interviewed following a class presentation she did on recycling. While she is getting ready for ...

E27

PAT THE DOG S2 27: ANYTHING FOR LITTLE GEORGE

Marcus and Squizel have stolen a ticket for the Justin Justin concert from a little girl in order to scalp it. Pat d...

E28

PAT THE DOG S2 28: THE FRIENDSHIP LETTER

The friendly letter from Lucie addressed to Lola gets carried away in the wind. Pat will bend over backwards to get ...

E29

PAT THE DOG S2 29: THE RECRUIT

Lola has to recover her mother's brooch that she hung around Hoodie's neck, because Hoodie has disappeared. He h...

E30

PAT THE DOG S2 30: WHERE IS MY PHONE?

為了幫媽媽戒掉手遊上癮,蘿拉偷偷藏起她的手機,結果手機居然真的失蹤了。

E31

PAT THE DOG S2 31: THE WRONG BAG

蘿拉不小心拿錯了維特的同款書包,必須在維特發現她的私人日記前,將包包換回來。

E32

寵物冤家(第2季第32集)

虎迪被寵物食品公司選上,即將成為電視廣告明星,但拍攝當天虎迪卻一直無法配合。

E33

寵物冤家(第2季第33集)

在等待蘿拉和露西拿油漆回來的這段時間,拍拍必須守護好提基木雕像

E34

寵物冤家(第2季第34集)

露西找蘿拉幫忙做瑜珈訓練,而忠心護主的拍拍,卻被誤會成在一旁搗亂。

E35

寵物冤家(第2季第35集)

以爸爸當年的獎杯為獎品,蘿拉與維特展開一場賽車比賽,連小偷馬塞爾也來湊一腳…

E36

寵物冤家(第2季第36集)

帶著從家裡發現的一張藏寶圖,蘿拉跟拍拍展開尋寶冒險,但路徑上卻多了一座工地…

E37

寵物冤家(第2季第37集)

蘿拉在母親節做了一條漂亮的項鍊準備送給媽媽,這條項鍊漂亮得連麻煩鴿媽媽都派麻煩...

E38

寵物冤家(第2季第38集)

為了慶祝結婚週年,爸爸準備了一枚戒指,但戒指卻不慎掉進排水管,還引起麻煩鴿來搶...

E39

寵物冤家(第2季第39集)

蘿拉今晚要去露西家的睡衣派對,只不過,她得先把不小心弄得一團亂的房間整理乾淨…

E40

寵物冤家(第2季第40集)

為了幫爸爸洗刷笨手笨腳的污名,蘿拉和拍拍暗中幫他蓋樹屋…

E41

寵物冤家(第2季第41集)

Daddy and Lola go shopping. Daddy is going to offer a little figurine to his daughter. But both Victor and Tank wan...

E42

寵物冤家(第2季第42集)

Lola and Victor are having a penalty shot contest to see who gets to keep the super soccer ball that belongs to Lola...

E43

寵物冤家(第2季第43集)

Lola discovers an old rocking horse that has been nibbled by termites. While she goes with her father to find an ant...

E44

寵物冤家(第2季第44集)

Victor wants to play with Lola's board game but she refuses to lend it to him because he never gives anything back....

E45

寵物冤家(第2季第45集)

Lola heads over to a film shoot so she can get a star to autograph a figurine she wants to give Hugo, who is sick. T...

E46

寵物冤家(第2季第46集)

Lola can't have anything to eat before she goes to see the doctor. So her mother has promised her a delicious meal...

E47

寵物冤家(第2季第47集)

For one of her homework assignments, Lola and her mother decide to grow tomatoes in the garden. Lola uses a worm to ...

E48

寵物冤家(第2季第48集)

Victor agrees to help Lola sweep the street as long as nothing happens to his game consol. But Marcus and Squizel ar...

E49

寵物冤家(第2季第49集)

Squizel is being chased by the Dobermanns. He has stolen a necklace that he has hidden in an old doll and that Lola ...

E50

寵物冤家(第2季第50集)

In order to help her mother who is an architect,. Lola decides to construct something with toy, building planks (kapl...

E51

寵物冤家(第2季第51集)

Lola and Lucie go to the museum for their class presentation but find themselves locked inside. Pat will have to hel...

E52

寵物冤家(第2季第52集)

Hoodie sneaks into a haunted house. The Guanos have seen him go in. Lola wants to get the cat back but Victor tells...

E53

寵物冤家(第2季第53集)

For a homework assignment, Lola is going to make a diorama. The Guanos decide they want it for the film they are goi...

E54

寵物冤家(第2季第54集)

Lola gets a bad mark in geometry and is afraid of telling her mother, the architect! The whole family goes bowling b...

E55

寵物冤家(第2季第55集)

Lola is looking for Hoodie. Pat, who is surprised to see that a rat has stolen Hoodie's wind-up mouse, follows the...

E56

寵物冤家(第2季第56集)

Lucie wants to recover a set of headphones she has lent to Lola but the Guanos have stolen it in order to block out a...

E57

寵物冤家(第2季第57集)

Lola and Lucie are using a pen with invisible ink to exchange secret messages. But the Guanos get their claws on the...

E58

寵物冤家(第2季第58集)

Once in front of the school gates, Lola realizes that she has forgotten an important piece of homework at home...that...

E59

寵物冤家(第2季第59集)

Lucie lands a small role on a film shoot but she loses an important prop, stolen actually, by the Guanos. Lola helps...

E60

寵物冤家(第2季第60集)

Hoodie gets caught by Norbert. Pat chases after his van in order to save him while the Guanos try and stop him. Onc...

E61

寵物冤家(第2季第61集)

Victor goes to the bowling alley with his lucky medallion to help him win, but he loses it. Lola is going to help hi...

E62

寵物冤家(第2季第62集)

Honorine lets Lola and Lucie take Pompom to the Space Park amusement fair so he can go on the rides. But the girls l...

E63

寵物冤家(第2季第63集)

Lola has found a lost dog but Marcus and Squizel want to get their hands on it so they can collect the reward. Pat t...