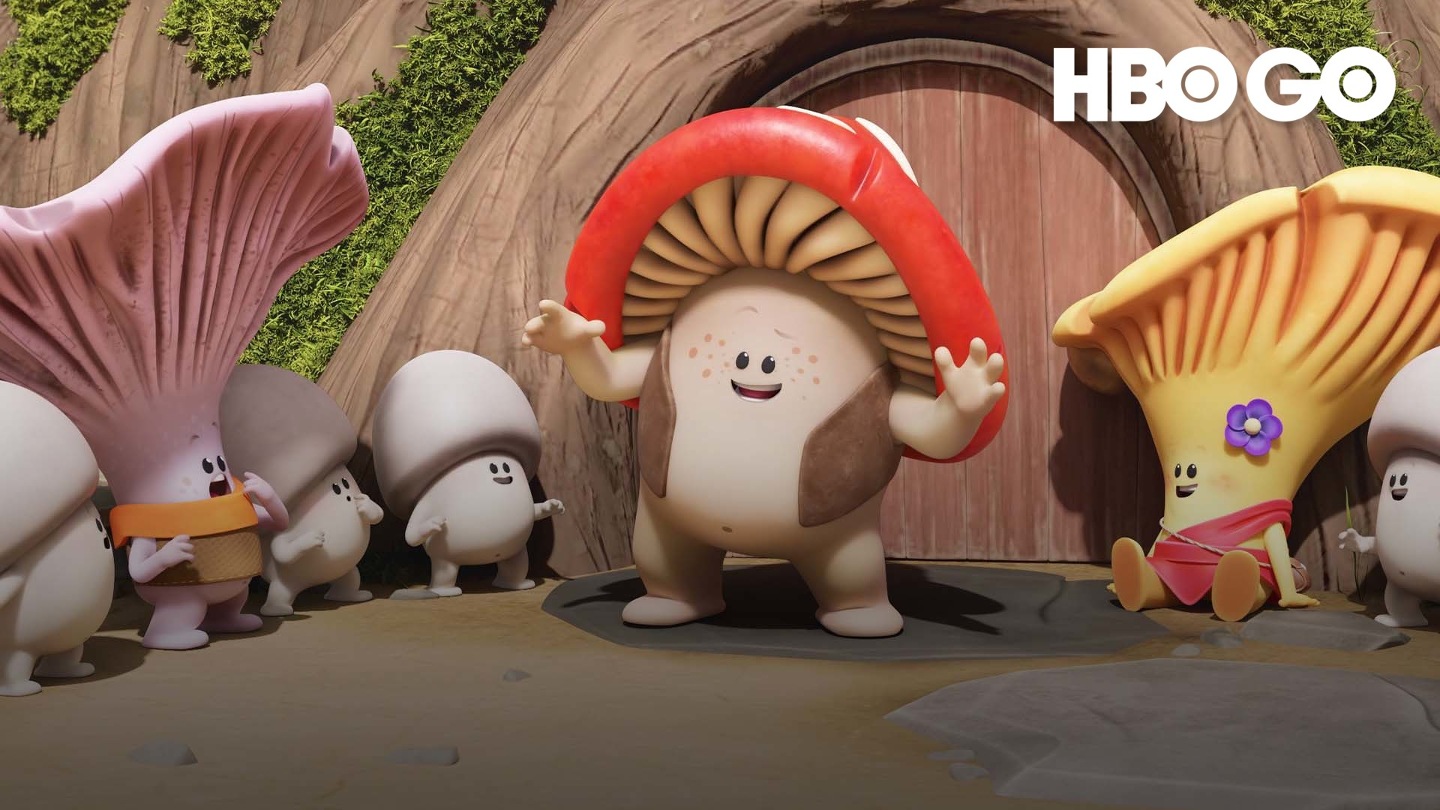 Mush-Mush and friends' favourite play tree – the Fun Tree – is rotten and doomed. But Mush-Mush refuses to give up on it. In a last ditch effort to save the tree, our friends adventure off to try and track down the legendary Starmush, hoping his mysterious healing powers can save it.
更多
E1

大菇小菇闖天下(第1季第1集)

Mush-Mush and friends' favourite play tree is rotten and doomed. Our friends, track down Starmush, hoping his power...

E2

大菇小菇闖天下(第1季第1集)

When Fung and Miff spoil Mush-Mush's fun tunnel surprise he has been working on for ages, he wishes their day was r...

E3

大菇小菇闖天下(第1季第1集)

When an egg blows down into the village, it is Mush-Mush and friends' mission to return it to Mush Mountain.

E4

大菇小菇闖天下(第1季第1集)

Chep is disappointed Mush-Mush and Lilit are too busy leaf-gliding to play moss-ball with him, so he hangs out with a...

E5

大菇小菇闖天下(第1季第1集)

When Sushi-Mushi breaks the only spoon he has ever cooked with, he declares his cooking days are over!

E7

大菇小菇闖天下(第1季第1集)

Mush-Mush's favourite frog has had its home taken over by a lizard. Mushpot says not to interfere – nature will b...

E8

大菇小菇闖天下(第1季第1集)

It's Fool the Forest Day! Mushables pull pranks all over Mushton, and Mush-Mush has an epic one planned.

E9

大菇小菇闖天下(第1季第1集)

When ants invade Fung and Miff's tree, our Mushlers offer for them to move in… but the two quickly turn out to be...

E10

大菇小菇闖天下(第1季第10集)

Mush-Mush and his friends are determined to win the bark sledge race, but their essential fourth team member drops out.

E11

大菇小菇闖天下(第1季第11集)

Puff doesn't like change much. And with spring about to burst forth and all the changes spring brings, he is puffi...

E12

大菇小菇闖天下(第1季第12集)

So Mushpie can take a break, Mush-Mush, Chep and Lilit offer to look after the Mushies, assuring her that everything ...

E13

大菇小菇闖天下(第1季第13集)

The Mushlets love Mush-Mush's heroic stories. But when they demand to see him actually do something heroic, Mush-Mu...

E14

大菇小菇闖天下(第1季第14集)

Chanterelle has built a whistle that can reproduce the most beautiful sound of the forest: the one of the Nightingale.

E15

大菇小菇闖天下(第1季第15集)

Wanting to rush off to climb Mush Mountain, Mush-Mush is in a hurry checking nectar level in flowers – a job that t...

E16

大菇小菇闖天下(第1季第16集)

Mush-Mush is amazed by the way Mushpot uses his staff of wisdom and how awesome it makes him look.

E17

大菇小菇闖天下(第1季第17集)

When Mush-Mush and Chep lose Lilit's flying disc down a snake tunnel, he is confident he can get it back.

E18

大菇小菇闖天下(第1季第18集)

All the Mushables have fun zooming down a long mudslide except Chep, who just can't get up the courage to do it.

E19

大菇小菇闖天下(第1季第19集)

When Lilit creates a 'friends tree' mapping out who everyone is best friends with in Mushton, she realizes Muddle...

E20

大菇小菇闖天下(第1季第20集)

Having rescued a Mushlet, Mush-Mush, Chep and Lilit becomes heroes in Mushton, and they're loving it!

E21

大菇小菇闖天下(第1季第21集)

The Beacon Mushroom that guides the Mushables back to Mushton in the dark has gone out.

E22

大菇小菇闖天下(第1季第22集)

Every time Mush-Mush has tried to surprise his friend with a gift, Chep has always found out what it was. But Chep pr...

E23

大菇小菇闖天下(第1季第23集)

Mushpie loves to sing. Only problem she is terrible at it! But Lilit, who has never heard her sing before

E24

大菇小菇闖天下(第1季第24集)

When Mushpot wishes he could roll back the seasons and relive being a Mushler, our friends get him to hang out doing ...

E25

大菇小菇闖天下(第1季第25集)

Mush-Mush can't figure out why his sense foot keeps buzzing like crazy… until an earthquake shakes the forest. Mu...

E26

大菇小菇闖天下(第1季第26集)

有人在偷吃蘑菇鎮的木製品,喬普循線鎖定了嫌疑犯,他能夠跟監成功,將兇手人贓俱獲...

E27

大菇小菇闖天下(第1季第27集)

If Mush-Mush had Bolly's speed, he'd want everyone to see just how awesomely fast he was.

E28

大菇小菇闖天下(第1季第28集)

Chep becomes obsessed with learning all about Mushlore – all the funny little traditions and things that Mushables ...

E29

大菇小菇闖天下(第1季第29集)

Starmush's back is stuck, and the Mushelder has no choice but to ask for help in Mushton.

E30

大菇小菇闖天下(第1季第30集)

Chep is so good at moss-marbles, no one wants to play him anymore! No one except Sumush who reveals himself to be a ...

E31

大菇小菇闖天下(第1季第31集)

When Chanterelle sees how good Lilit is at painting, she offers to help her dig into her talent.

E32

大菇小菇闖天下(第1季第32集)

Chep is very excited: tonight, a rare and extremely stinky plant is going to bloom! But he already promised Mush-Mush...

E33

大菇小菇闖天下(第1季第33集)

When Mush-Mush, Chep and Lilit take their compost meals back to their home-tree to eat, they think they have made a g...

E34

大菇小菇闖天下(第1季第34集)

Mush-Mush, Chep and Lilit are playing dares and having a lot fun. All the Mushables are happy for them except Fung an...

E35

大菇小菇闖天下(第1季第35集)

While they are enjoying the longest day of the summer, Mush-Mush, Chep and Lilit realise that the forest is drying out.

E36

大菇小菇闖天下(第1季第36集)

Mush-Mush wants to be just like Starmush when he grows up, because he's convinced that Starmush is the most awesome...

E37

大菇小菇闖天下(第1季第37集)

Chep has come across a new seedpod specimen. Mushpot warns him not to take it though.

E38

大菇小菇闖天下(第1季第38集)

Mush-Mush can't wait to show his tricks of forest illusion to everyone.

E39

大菇小菇闖天下(第1季第39集)

Mush-Mush is very proud he invented a new game called Fruity Bounce, where he and his friends bounce as high as possi...

E40

大菇小菇闖天下(第1季第40集)

When Mush-Mush discovers that Morel is afraid of the dark, he suggests that Chep, Lilit and he take the Mushlets to t...

E41

大菇小菇闖天下(第1季第41集)

Because Mush-Mush, Chep and Lilit are always up to new adventures, Bolly has dubbed them The Adventurers.

E42

大菇小菇闖天下(第1季第42集)

Truff is happy. He has found a necklace that makes him even Truffier! Except he had no idea the necklace belongs to S...

E43

大菇小菇闖天下(第1季第43集)

Lilit is under pressure. Truff, the most talented musician in Mushton, has invited her, Mush-Mush and Chep to form a ...

E44

大菇小菇闖天下(第1季第44集)

Because he has won the moss-ball game last year, Puff is in charge of organizing this Summer's Picnic. Only Puff is...

E45

大菇小菇闖天下(第1季第45集)

Mush-Mush, Chep and Lilit notice that Mushpie seems in great shape lately. They want to feel as great as she does and...

E46

大菇小菇闖天下(第1季第46集)

When Chep asks Mush-Mush and Lilit to go storm-watching and they refuse, Lilit feels bad and convinces Mush-Mush to j...

E47

大菇小菇闖天下(第1季第47集)

Fung and Miff have come across a rare piece of bark struck by lightning.

E48

大菇小菇闖天下(第1季第48集)

Chep knows so many things about nature that Mush-Mush and Lilit are confident he's not far from being an expert lik...

E49

大菇小菇闖天下(第1季第49集)

Chep has been watching Sushi-Mushi test new compost fritters recipes. When Mush-Mush gets to taste one, he can't be...

E50

大菇小菇闖天下(第1季第50集)

Mush-Mush wants to impress the Mushlets by showing off his sensing gift. But his sense-foot doesn't work like it sh...