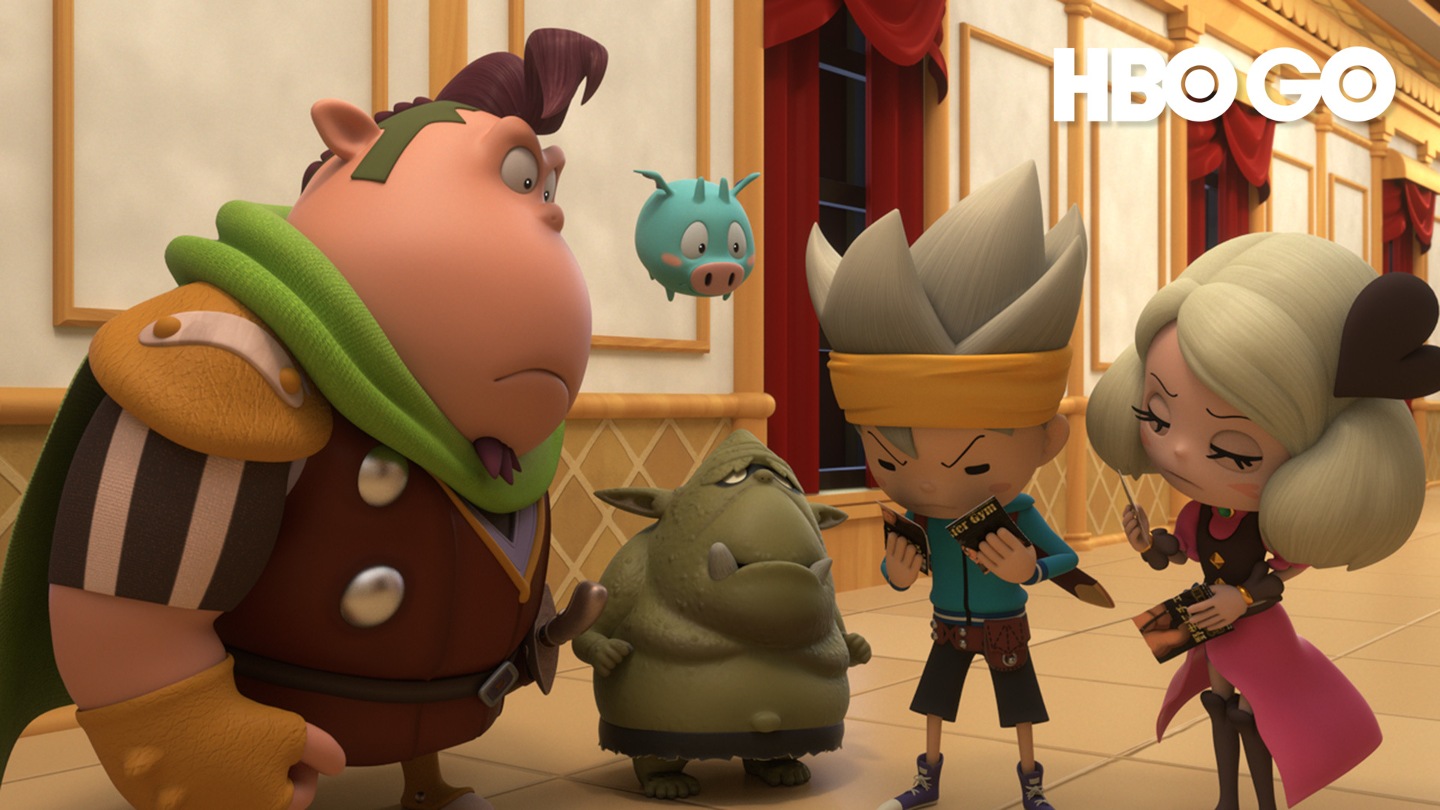 Hyperactive hero Chup and his adventurous friends - Mayonna, Gobson, and Béarnaise - try to turn the tables on evil merchant Sultan Vinegar, who destroyed Chup's village. En route to justice, the pals embark on a questionable side quest to defeat mythical Madusa and retrieve the Purple Eye for Chup's crush, Princess Melonia.
更多
E1

點心世界(第1季第1集)

Hyperactive hero Chup and his adventurous friends - Mayonna, Gobson, and Béarnaise - try to turn the tables on evil ...

E2

點心世界(第1季第2集)

At King Papaya's request, Chup and his mates receive elite tactical training from forceful Commander Ciderfella. If t...

E3

點心世界(第1季第3集)

Will Chup discover a gadget to defeat Madusa at Gelatto's shop? Before he and his companions find out, they hard-core...

E4

點心世界(第1季第4集)

To crush Madusa once and for all, Chup and his mates need reinforcements. A boy band comprised of three large, flambo...

E5

點心世界(第1季第5集)

Princess Melonia has a new need: A rare, potent, beautifying skin cream from the large, intimidating, infamous monste...

E6

點心世界(第1季第6集)

While side-questing The Krapen, Chup, Mayonna, Gobson, Béarnaise, and Pigsy unexpectedly encounter a special axe. Co...

E7

點心世界(第1季第7集)

With the help of pop diva Mermaidol, repetitive Copybat, and one desert Merman, Chup's tiny search party makes slow p...

E8

點心世界(第1季第8集)

Princess Melonia now wants the love potion of The Bandshees, who were a pop sensation back in the day. To find the el...

E9

點心世界(第1季第9集)

The Bandshees prove to be worthy guards of their love potion. Chup and crew consult Sloe White, the sleepy forest psy...

E10

點心世界(第1季第10集)

When their singing falls flat with The Bandshees, Chup and company appeal to celeb songstresses The Spicy Galz. Team ...

E11

點心世界(第1季第11集)

The Bandshees issue an ultimatum to Chup: They'll swap the love potion for the missing side of their mysterious love ...

E12

點心世界(第1季第12集)

On a quest for Immortali Tea to save sickly Melonia, Chup and friends encounter the fierce, fiery Fearnix. This giant...

E13

點心世界(第1季第13集)

En route to their Fearnix showdown, Chup and crew encounter annoying monsters Will 'n' Wisp. The disturbing duo launc...

E14

點心世界(第1季第14集)

Team Chup has another chance to even its score against The Fearnix. During the encounter, Team Chup witnesses a Fearn...

E15

點心世界(第1季第15集)

With a generous helping of Mayonna, Chup and his entourage face The Fearnix once more. Through another Fearnix Fantas...

E16

點心世界(第1季第16集)

Melonia hosts a royal birthday party, but the festivities quickly sour due to an imposter Chup. The real Chup and his...

E17

點心世界(第1季第17集)

When The Dragon Heart disappears, Chup, his cohorts, and King Papaya believe that royal pup Paw Paw is guilty. Meloni...

E18

點心世界(第1季第18集)

After swallowing The Dragon Heart, Pigsy runs wild. She is nearly unrecognizable as grotesque, dangerous, and destruc...

E19

點心世界(第1季第19集)

Chup and friends leave Tutti-Frutti via the Transcontinental Railroad. Their destination is the dark skies of Metruff...

E20

點心世界(第1季第20集)

To confront Sultan Vinegar at The Distillery, Chup and comrades first must cross paths with VamPIEr, the terror of Mo...

E21

點心世界(第1季第21集)

Velouté, Chup, and his company encounter an accountant. However, this is no ho-hum bookkeeper: Mr. Wolfmann is a wer...

E22

點心世界(第1季第23集)

Mr. Wolfmann, Chup, Velouté, and friends visit Fidostein, watchdog of VamPIEr's weakness: The Silver Stakes. Mr. Wol...

E23

點心世界(第1季第24集)

Captain Mussel offers to escort Chup and his mates to Sultan Vinegar's Distillery. Naturally, there is a hook. The Ca...

E24

點心世界(第1季第25集)

Mayonna goes missing, but luckily, Chup, Gobson, Béarnaise, and Captain Mussel keep cool heads during the crisis. Th...

E25

點心世界(第1季第25集)

There is a party at Sir Loin-Stake's mansion, and Team Chup are guests of honor. Captain Mussel intends to honor the ...

E26

點心世界(第1季第26集)

Velouté conceives a scheme to infiltrate Sultan Vinegar's Distillery and retrieve The Dragon Heart. Little Pigsy is ...