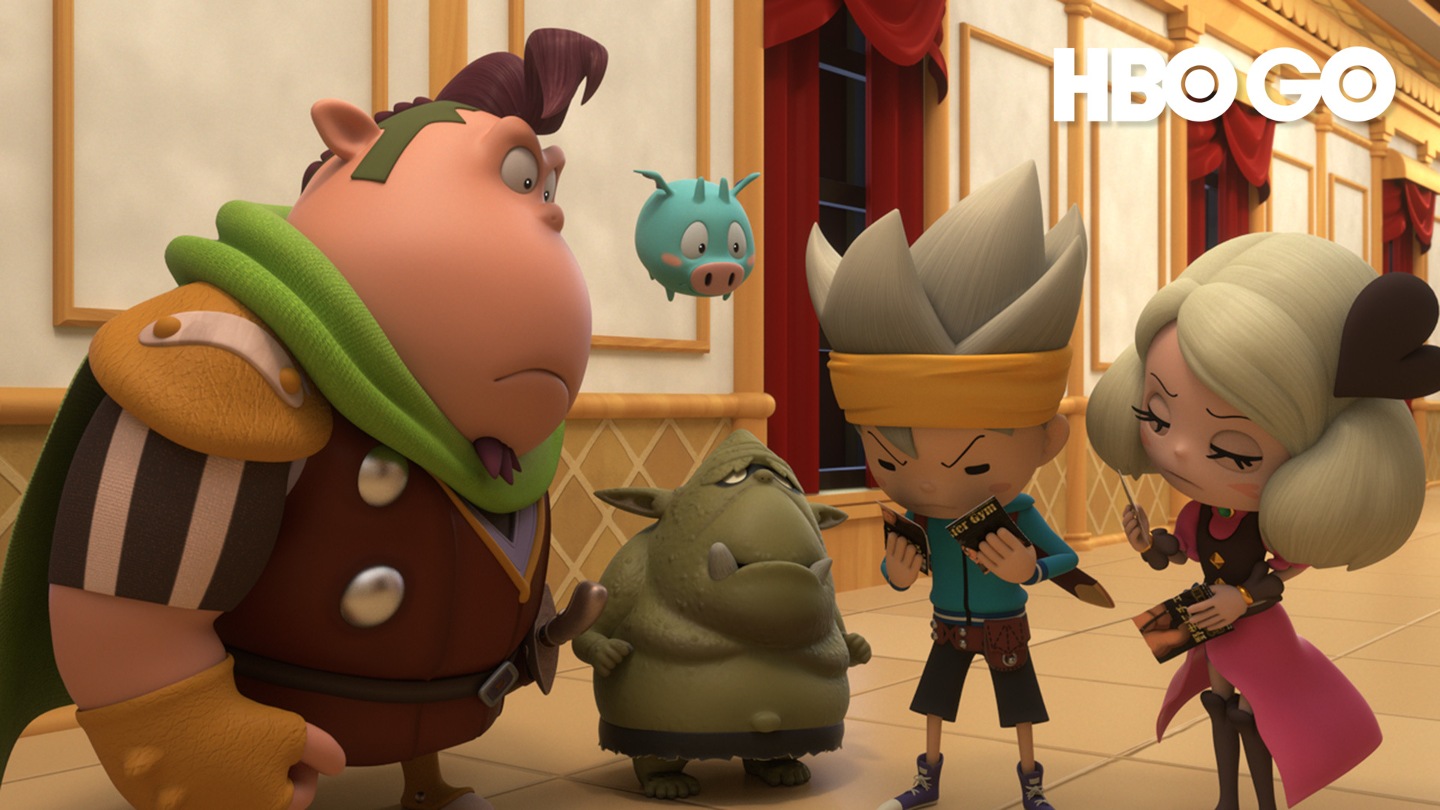 Hyperactive hero Chup and his adventurous friends - Mayonna, Gobson, and Béarnaise - try to turn the tables on evil merchant Sultan Vinegar, who destroyed Chup's village. En route to justice, the pals embark on a questionable side quest to defeat mythical Madusa and retrieve the Purple Eye for Chup's crush, Princess Melonia.
更多
E1

點心世界(第1季第1集)

Hyperactive hero Chup and his adventurous friends - Mayonna, Gobson, and Béarnaise - try to turn the tables on evil merchant Sultan Vinegar, who destroyed Chup's village. En route to justice, the pals embark on a questionable side quest to defeat mythical Madusa and retrieve the Purple Eye for Chup's crush, Princess Melonia.

E2

點心世界(第1季第2集)

At King Papaya's request, Chup and his mates receive elite tactical training from forceful Commander Ciderfella. If they survive the Commander's boot camp, then Chup and said mates might have a shot at a real Madusa takedown.

E3

點心世界(第1季第3集)

Will Chup discover a gadget to defeat Madusa at Gelatto's shop? Before he and his companions find out, they hard-core haggle with robot-clerk/Melonia-superfan P-gnocchi-0 Version 3.0. This deal might be tougher than charming snakes off Madusa's head!

E4

點心世界(第1季第4集)

To crush Madusa once and for all, Chup and his mates need reinforcements. A boy band comprised of three large, flamboyant, purple genies lend helping hands (and feet) in their own musical way to the mission.

E5

點心世界(第1季第5集)

Princess Melonia has a new need: A rare, potent, beautifying skin cream from the large, intimidating, infamous monster The Krapen. Chup is on it! He wrangles his posse, and the gang reluctantly accept this probable fool's errand. With help from a bilingual mermaid pop star, the group attempts to snag Kranel No. 2 Xtreme Moisturizing Cream for Chup's #1 lady love.

E6

點心世界(第1季第6集)

While side-questing The Krapen, Chup, Mayonna, Gobson, Béarnaise, and Pigsy unexpectedly encounter a special axe. Could it be the perfect tool - Jara - to chop a stubborn Krapen leg? Will they be able to co-op the precious resource - Kranel No. 2 Xtreme Moisturizing Cream - for precious Princess Melonia? Chup and his friends will risk life and limb for the cause!

E7

點心世界(第1季第7集)

With the help of pop diva Mermaidol, repetitive Copybat, and one desert Merman, Chup's tiny search party makes slow progress toward its target: Kranel No. 2 Xtreme Moisturizing Cream. Will they achieve Chup's goal to satisfy Princess Melonia's delicate skin?

E8

點心世界(第1季第8集)

Princess Melonia now wants the love potion of The Bandshees, who were a pop sensation back in the day. To find the elixir and its gatekeepers, Chup and company engage Peter Pancake, a self-proclaimed, roly-poly survivalist. 'Ranger Pancake' leads the pack on what might be a wild goose chase. Through it all, Chup remains a believer in the power of a greasy waffler.

E9

點心世界(第1季第9集)

The Bandshees prove to be worthy guards of their love potion. Chup and crew consult Sloe White, the sleepy forest psychic and foodie, on this matter. Sloe White advises that, in dealing with divas, one should incentivize with music. Chup and pals sing their hearts out, and Commander Ciderfella - plus The Genie ACEs - provide back-up. Is this group good enough to get The Bandshees' special brew?

E10

點心世界(第1季第10集)

When their singing falls flat with The Bandshees, Chup and company appeal to celeb songstresses The Spicy Galz. Team Chup chooses one of the 48 Galz to advocate on their behalf. Chup hopes that Ginja Spicy's rags-to-riches story will inspire a loosening of The Bandshees' grip on that love potion. But could Chup's hope be just a pipe dream?

E11

點心世界(第1季第11集)

The Bandshees issue an ultimatum to Chup: They'll swap the love potion for the missing side of their mysterious love triangle. With the assistance of pro matchmakers Romano and Julienne, Chup and his mates can't lose, right?! However, the course of true love doth never run smooth; plus, The Bandshees' love triangle has its own funky groove . . .

E12

點心世界(第1季第12集)

On a quest for Immortali Tea to save sickly Melonia, Chup and friends encounter the fierce, fiery Fearnix. This giant bird's skill is its power to induce the Fearnix Fantasy. In such visions, victims witness unsavory parts of their past. The Fearnix targets Gobson first. Then, Gobson's royal backstory is exposed in all its gory details.

E13

點心世界(第1季第13集)

En route to their Fearnix showdown, Chup and crew encounter annoying monsters Will 'n' Wisp. The disturbing duo launches an esteem-crushing roast of our heroes. Afterward, The Fearnix marks Pigsy as its next prey. Pigsy soon remembers her ejection from Sultan Vinegar's Distillery. Unflappable Pigsy proves that vengeance is no picnic for her foes.

E14

點心世界(第1季第14集)

Team Chup has another chance to even its score against The Fearnix. During the encounter, Team Chup witnesses a Fearnix Fantasy featuring Chup and Béarnaise. Ultimately, a tall tale about Chup and Béarnaise's friendship is trashed.

E15

點心世界(第1季第15集)

With a generous helping of Mayonna, Chup and his entourage face The Fearnix once more. Through another Fearnix Fantasy, they observe the origin of Chup and Mayonna's friendship. The Fantasy serves an interesting morsel about Mayonna's family's finances.

E16

點心世界(第1季第16集)

Melonia hosts a royal birthday party, but the festivities quickly sour due to an imposter Chup. The real Chup and his companions attempt to set things right with help from King Papaya and The Dragon Heart, a mystical - yet practical - treasure. 

E17

點心世界(第1季第17集)

When The Dragon Heart disappears, Chup, his cohorts, and King Papaya believe that royal pup Paw Paw is guilty. Melonia's fate could rest in the hands of her fluffy little bro. Wrangling this particular canine might be Chup's biggest challenge.

E18

點心世界(第1季第18集)

After swallowing The Dragon Heart, Pigsy runs wild. She is nearly unrecognizable as grotesque, dangerous, and destructive Bigwigsy Pigsy. Chup is desperate to rehabilitate her, but an abrupt appearance of Sultan Vinegar cooks those plans.

E19

點心世界(第1季第19集)

Chup and friends leave Tutti-Frutti via the Transcontinental Railroad. Their destination is the dark skies of Metrufflis. Their goal is to serve just desserts for Sultan Vinegar. The friends' train ride unexpectedly reveals a juicy link between Chup and mysterious swordsman Velouté.

E20

點心世界(第1季第20集)

To confront Sultan Vinegar at The Distillery, Chup and comrades first must cross paths with VamPIEr, the terror of Moonlit Back Alley. They suit up, so to speak, with their secret weapon. However, the potent backfire has unintended consequences on the enemy.  

E21

點心世界(第1季第21集)

Velouté, Chup, and his company encounter an accountant. However, this is no ho-hum bookkeeper: Mr. Wolfmann is a werewolf in sheepish clothing. Chup and his company pin their hopes on Mr. Wolfmann and his potential to vanquish VamPIEr. But if Mr. Wolfmann messes up, then Chup's quest might be ruined.

E22

點心世界(第1季第23集)

Mr. Wolfmann, Chup, Velouté, and friends visit Fidostein, watchdog of VamPIEr's weakness: The Silver Stakes. Mr. Wolfmann and Fidostein are lifelong buddies; however, VamPIEr, their former friend, is now their common enemy. VamPIEr blocks passage to Vinegar's Distillery, so he is Chup's rival too. Will the combined strength of heroes and canines beat VamPIEr?

E23

點心世界(第1季第24集)

Captain Mussel offers to escort Chup and his mates to Sultan Vinegar's Distillery. Naturally, there is a hook. The Captain requires help in locating "The Eternal Rose," a pricey painting gone missing from Sir Loin-Stake's mansion. Will this odd fishing expedition catch an art thief?

E24

點心世界(第1季第25集)

Mayonna goes missing, but luckily, Chup, Gobson, Béarnaise, and Captain Mussel keep cool heads during the crisis. They quickly investigate Mayonna's disappearance. After an unproductive search, they attempt to act like Mayonna. Finally, they hold auditions for a Mayonna replacement. The adorable Wicked Witch joins other monsters onstage to compete for this recognition. 

E25

點心世界(第1季第25集)

There is a party at Sir Loin-Stake's mansion, and Team Chup are guests of honor. Captain Mussel intends to honor the Team's recent crime-solving savvy; however, a mysterious threat letter dampens the mood. Apparently, dark magic will invade the mansion very soon. Suddenly, the festivities spiral into a frantic, finger-pointing, seemingly fruitless search for the suspect.

E26

點心世界(第1季第26集)

Velouté conceives a scheme to infiltrate Sultan Vinegar's Distillery and retrieve The Dragon Heart. Little Pigsy is a big part of this scheme. Chup and friends witness Pigsy's covert mission via hidden camera. Pigsy gives it her best shot; meanwhile, the ghost of Sultan Vinegar's dragon Smörg Åsbord causes chaos.