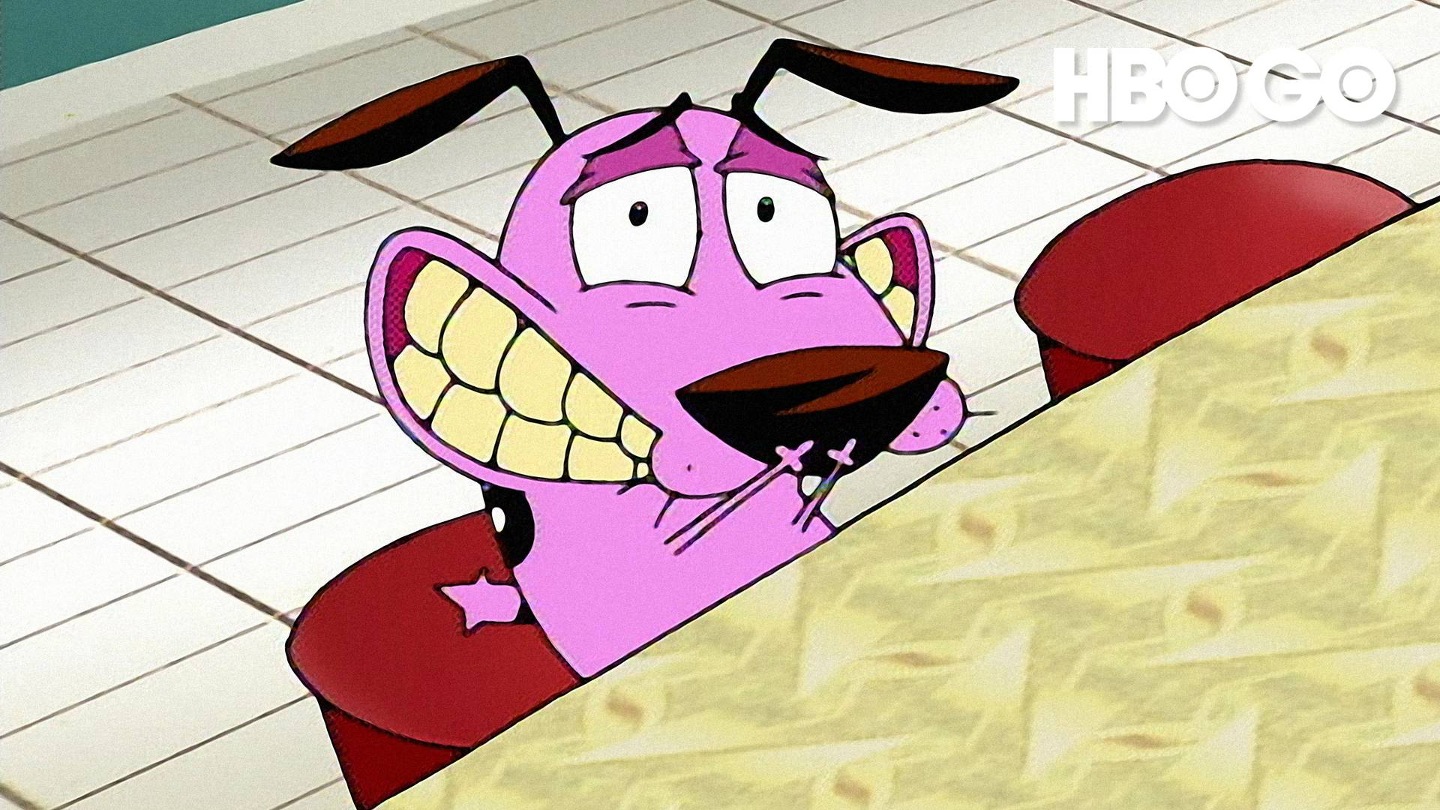 Courage, Muriel and Eustace check into a motel run by a sinister cat named Katz. A very long night is in store for the three, especially after Katz turns loose his spiders.
更多
E1

膽小狗英雄(第1季第1集)

Muriel, the Farmer and Courage check into a motel run by a sinister cat, Katz. It turns out to be a very long night...

E2

膽小狗英雄(第1季第2集)

A Cajun fox cooks up a delicious 'Cajun Granny Stew' to enter in a cooking contest, but he's missing one ingredient: ...

E3

膽小狗英雄(第1季第3集)

When an evil, rich, old man dies, his shadow starts spooking the town of Nowhere and the Bagge's house, until he tire...

E4

膽小狗英雄(第1季第4集)

Muriel gets amnesia from a head injury. Courage goes online to find an amnesia specialist but is answered by Le Quack...

E5

膽小狗英雄(第1季第5集)

A hungry Big Foot turns up at the farm looking for somewhere to stay. Courage is terrified at first but befriends th...

E6

膽小狗英雄(第1季第6集)

The Farmer goes to a hair institute that promises hair growth, dragging Courage along with him.

E7

膽小狗英雄(第1季第7集)

Muriel needs a new mattress. The one she orders comes with a bonus: a demon, which takes over her body.

E8

膽小狗英雄(第1季第8集)

Muriel's nephew, Fred, a deranged barber, comes to the farm for a visit. He has a problem though: he can't stop givin...

E9

膽小狗英雄(第1季第9集)

While gardening, Muriel is bitten by what she thinks is a rabbit. She is transformed into a weremole (that was no ra...

E10

膽小狗英雄(第1季第10集)

The Farmer goes to visit his mother on Mother's Day, but Ma is not thrilled at all to see him.

E11

膽小狗英雄(第1季第11集)

Duck brothers from outer space kidnap Muriel so they can save their third brother. Courage must help the Ducks save ...

E12

膽小狗英雄(第1季第12集)

Eustace hires Shirley the Medium to settle differences between him and his dead brother after Courage finds a locked ...

E13

膽小狗英雄(第1季第13集)

An ancient artifact is stolen from a museum and Courage discovers it buried outside the house.

E14

膽小狗英雄(第1季第14集)

The Farmer's foot is engulfed by a fungus, which goes on to swallow up his entire body. Courage must personally prov...

E15

膽小狗英雄(第1季第15集)

A hunchback knocks at the farmhouse door on a rainy night. The Farmer turns him away, but Courage discovers Hunchy i...

E16

膽小狗英雄(第1季第16集)

A lonely goose god looks down from the heavens, and spying Muriel, decides she must be his queen.

E17

膽小狗英雄(第1季第17集)

After a rainstorm, a puddle queen materializes at the farm. She woos Eustace into her puddle world. Muriel is heart...

E18

膽小狗英雄(第1季第18集)

A famous (zombie) film director comes to the farm, saying he wants to shoot his next film there. The greedy Farmer a...

E19

膽小狗英雄(第1季第19集)

Muriel, Courage and Eustace are on holiday in the Arctic. Courage goes out for firewood and comes back to find the Sn...

E20

膽小狗英雄(第1季第20集)

The Farmer cracks open an egg to cook breakfast and a little duckling pops out, instantly claiming Eustace as his 'Ma...

E21

膽小狗英雄(第1季第21集)

The Farmer and Courage go into town for a hamburger, but the burger joint has a sinister surprise.

E22

膽小狗英雄(第1季第22集)

Vacationing on a cruise ship that sinks, Muriel, Courage and the Farmer end up on a deserted island.

E23

膽小狗英雄(第1季第23集)

The chicken from outer space returns to seek revenge on Courage.

E24

膽小狗英雄(第1季第24集)

Muriel selects an eggplant from her lovingly tended garden and prepares to cook it.

E25

膽小狗英雄(第1季第25集)

A tornado rips through Nowhere, destroying the farmhouse and turning Muriel into a little girl again--just 3-and-a-ha...

E26

膽小狗英雄(第1季第26集)

A travelling stage arrives at the farm manned by an evil stage master, who turns Muriel and the Farmer into puppets.