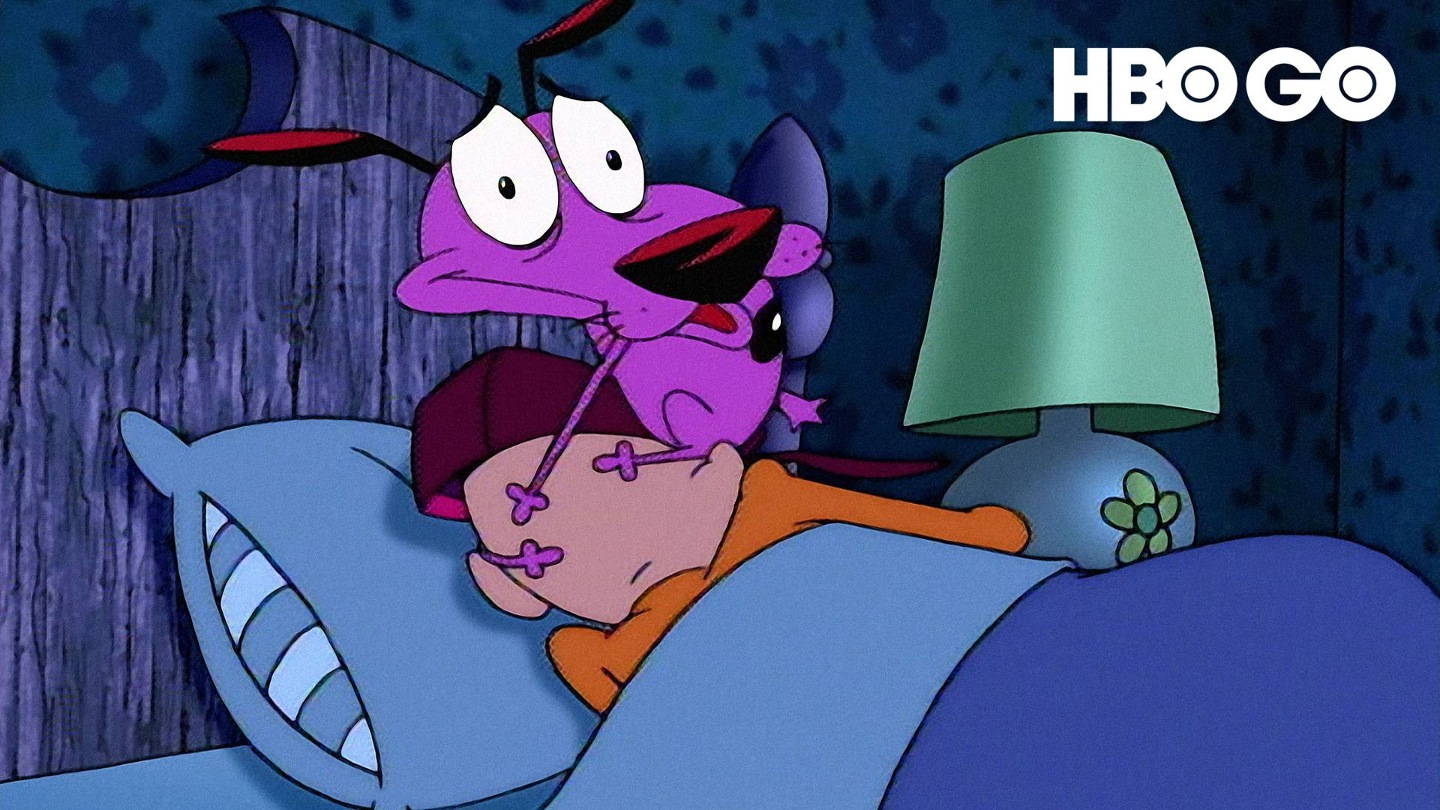 Muriel orders new kitchen curtains and, as a bonus, receives free seeds that grow into a magic tree. The tree begins making wishes come true, which infuriates Eustace so much that he makes repeated attempts to chop it down. Courage does his best to protect the tree, building a fortress around it replete with a moat and a singing eel.
更多
E1

膽小狗英雄(第2季第1集)

Courage protects a magic tree from the Farmer.

E2

膽小狗英雄(第2季第2集)

Courage defends earth from a misunderstood alien robot sent to conquer the planet.

E3

膽小狗英雄(第2季第3集)

Shirley puts a curse on the Farmer that can only be undone when he learns generosity.

E4

膽小狗英雄(第2季第4集)

Courage risks his life to save the family from a giant cockroach in New York City.

E5

膽小狗英雄(第2季第5集)

A confused burglar wants the family to help him commit his greatest heist.

E6

膽小狗英雄(第2季第6集)

A thousand years in the future, Courage must defend the family from the hostile Banana People.

E7

膽小狗英雄(第2季第7集)

Muriel and the farmer are attacked by a mummy who believes Muriel is the Queen who had him mummified in Ancient Egypt.

E8

膽小狗英雄(第2季第8集)

When the government tries to retrieve a top-secret device that's in Muriel's possession, she believes they want her a...

E9

膽小狗英雄(第2季第9集)

Courage rescues Muriel and the Farmer from a sinister vacuum cleaner salesman.

E10

膽小狗英雄(第2季第10集)

Courage and the family go on a space mission to save the sun.

E11

膽小狗英雄(第2季第11集)

Courage is accidentally turned into an insect and saves everyone from a falling satellite.

E12

膽小狗英雄(第2季第12集)

Katz concocts a mutant jam to kidnap Muriel, so he can win an annual cooking contest that she always wins.

E13

膽小狗英雄(第2季第13集)

The family's TV breaks as the winner of the Nowhere lottery is announced.

E14

膽小狗英雄(第2季第14集)

Courage's computer, which is tired of answering Courage's questions, uploads his memory into Muriel's body and starts...

E15

膽小狗英雄(第2季第15集)

Courage and the Farmer rescue Muriel from a hair farm.

E16

膽小狗英雄(第2季第16集)

Courage saves Muriel from becoming a human sacrifice after Eustace finds a treasure map which leads them to a golden ...

E17

膽小狗英雄(第2季第17集)

When the family goes on a sea cruise, they are forced to help hunt an evil sea serpent.

E18

膽小狗英雄(第2季第18集)

Courage must save Muriel from a giant kangaroo monster.

E19

膽小狗英雄(第2季第19集)

Courage becomes Muriel and the Farmer's slave when a floating alien brain steals her kindness.

E20

膽小狗英雄(第2季第20集)

Courage dreams of being a brave Western lawman.

E21

膽小狗英雄(第2季第21集)

Courage defends Muriel from a polite, Oxford-educated giant weevil.

E22

膽小狗英雄(第2季第22集)

Courage stops a vengeful ghost from destroying Muriel and the Farmer's relationship.

E23

膽小狗英雄(第2季第23集)

Courage must appease a spirit to prevent it from melting the family.

E24

膽小狗英雄(第2季第24集)

Courage saves the family after it is swallowed by a giant sand whale.

E25

膽小狗英雄(第2季第25集)

Courage must find a cure when a sinister scientist afflicts Muriel with a deep depression.