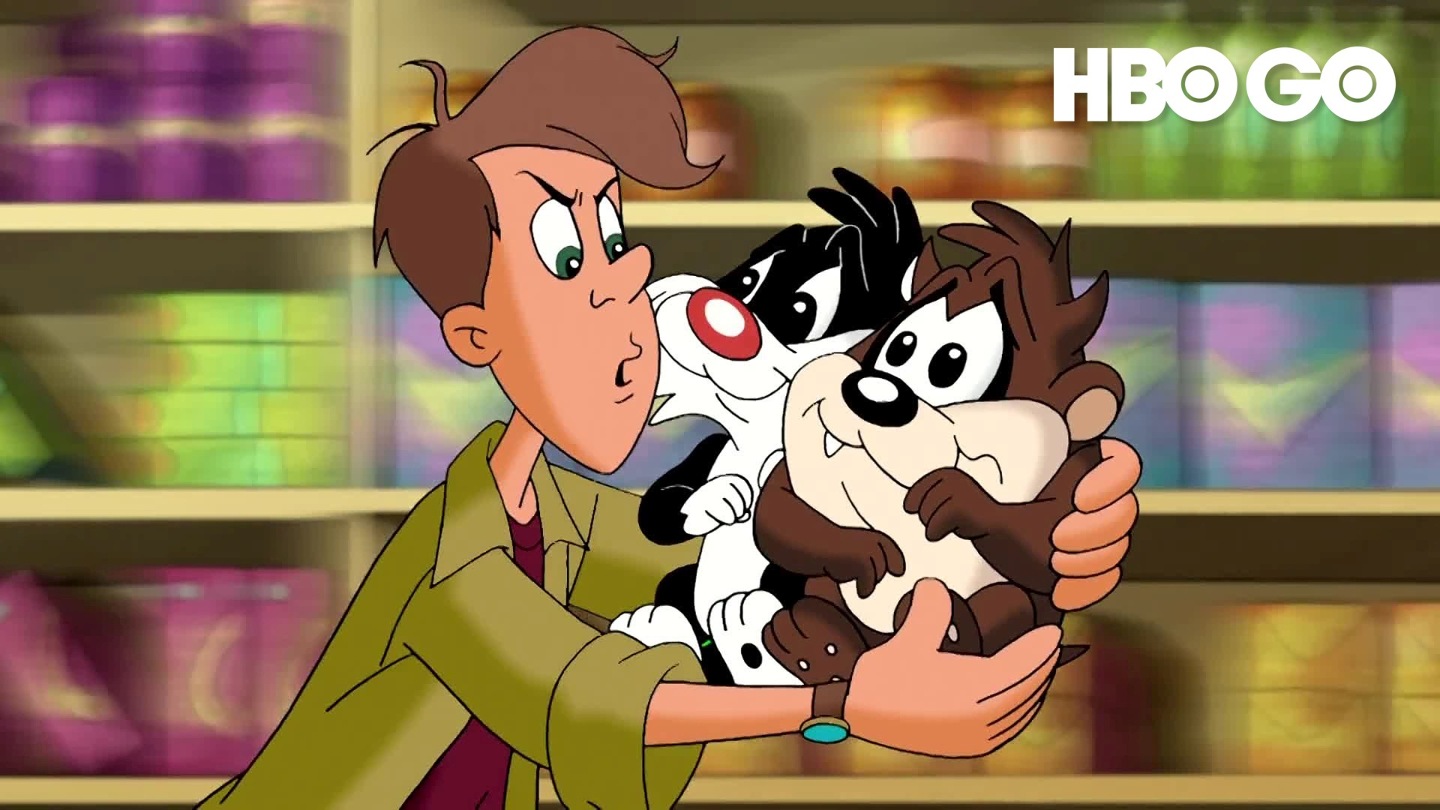 The babies have an Easter adventure in the conclusion of a two-part story. Taz grows impatient waiting for Easter. To keep Taz from being sad and tearful, the babies decide to find the Easter bunny. They venture into a meadow that looks exactlylike the one in Granny's storybook. On their hunt, Taz and the babies collect what appear to be eggs. But when Taz takes a tumble into a stream, the paint washes off revealing ordinary rocks that Bugs painted. Dismayed, the babies fall asleep only to awaken the next morning and discover that the real Easter bunny has filled their baskets with eggs and chocolate delights!
更多
E1

寶貝樂一通(第2季第1集)

Their first trip to a big grocery store fascinates the Baby Looney Tunes.

E2

寶貝樂一通(第2季第2集)

Their very first trip to an art museum unleashes creative energy, turning the Baby Looney Tunes into enthused culture...

E3

寶貝樂一通(第2季第3集)

The Baby Looney Tunes experience their very first big stadium baseball game.

E4

寶貝樂一通(第2季第4集)

Tweety feels neglected when no one wants him on their museum scavenger hunt team.

E5

寶貝樂一通(第2季第5集)

Baby Elmer Fudd makes his series episode debut as Bugs' first real nemesis.

E6

寶貝樂一通(第2季第6集)

Everyone's excited about a grand bicycle outing through the park--everyone except Tweety, whose little legs don't qui...

E7

寶貝樂一通(第2季第7集)

Baby Sylvester is overcome with angst because Granny's broken old chair, his favorite napping place, must be replaced...

E8

寶貝樂一通(第2季第8集)

Baby Bugs and Baby Daffy decide to team up, and unlike the other Baby Looney Tunes, fake having received their annual...

E9

寶貝樂一通(第2季第9集)

Baby Bugs tries to realize his dream of traveling to the moon while the Baby Looney Tunes are on a space museum visit.

E10

寶貝樂一通(第2季第10集)

Overhearing Granny on the phone say that she's "expecting a baby," Baby Bugs goes into overdrive, revving up the Baby...

E11

寶貝樂一通(第2季第11集)

Granny takes the BLTs back to a simpler lifestyle during a rustic weekend spent in an 1800's log cabin, where they le...

E12

寶貝樂一通(第2季第12集)

The Baby Looney Tunes first Halloween involves a costume contest for Lola, Melissa and Petunia, group trick-or-treating.

E13

寶貝樂一通(第2季第13集)

During a long road trip, Floyd, obsessed with taking the Baby Looney Tunes to visit the distant, annual Acme Garlic F...

E14

寶貝樂一通(第2季第14集)

Granny's sister's beloved bakery, Cakery Bakery Dock, home of her wonderful trademark cinnamon rolls, is being put ou...

E15

寶貝樂一通(第2季第15集)

The Baby Looney Tunes are very eager to visit the local TV station, home of their favorite live children's show.

E16

寶貝樂一通(第2季第16集)

Baby Bugs can't wait to see his favorite children's musical group, the Wormies, and he absolutely thrills to the noti...

E17

寶貝樂一通(第2季第17集)

The Baby Looney Tunes learn all about soccer from Floyd, who surprisingly is an enthused soccer expert.

E18

寶貝樂一通(第2季第18集)

On their first farm visit, the Baby Looney Tunes meet a young, dispirited rooster named Baby Foghorn Leghorn.

E19

寶貝樂一通(第2季第19集)

On an orchard outing, picking bushels of fresh apples for Granny's home-baked pies, the Baby Looney Tunes encounter M...

E20

寶貝樂一通(第2季第20集)

A day playing miniature golf is fun for everyone but Baby Daffy, who believes he must beat everyone else at the game.

E21

寶貝樂一通(第2季第21集)

A trip to the seashore brings the BLTs into contact with a just-hatched turtle that Melissa, apart from the rest beca...

E22

寶貝樂一通(第2季第22集)

A nagging question regarding the composition of the moon brings the Baby Looney Tunes to experience their very first ...

E23

寶貝樂一通(第2季第23集)

On an overnight train trip to visit Floyd at college, Lola's doll vanishes.

E24

寶貝樂一通(第2季第24集)

In a precursor to the classic Looney Tune "Duck Amuck," Baby Daffy has Baby Bugs right where he wants him.

E25

寶貝樂一通(第2季第25集)

The Baby Looney Tunes tour the local fire station, learning fire prevention tips from friendly Fireman Frank.