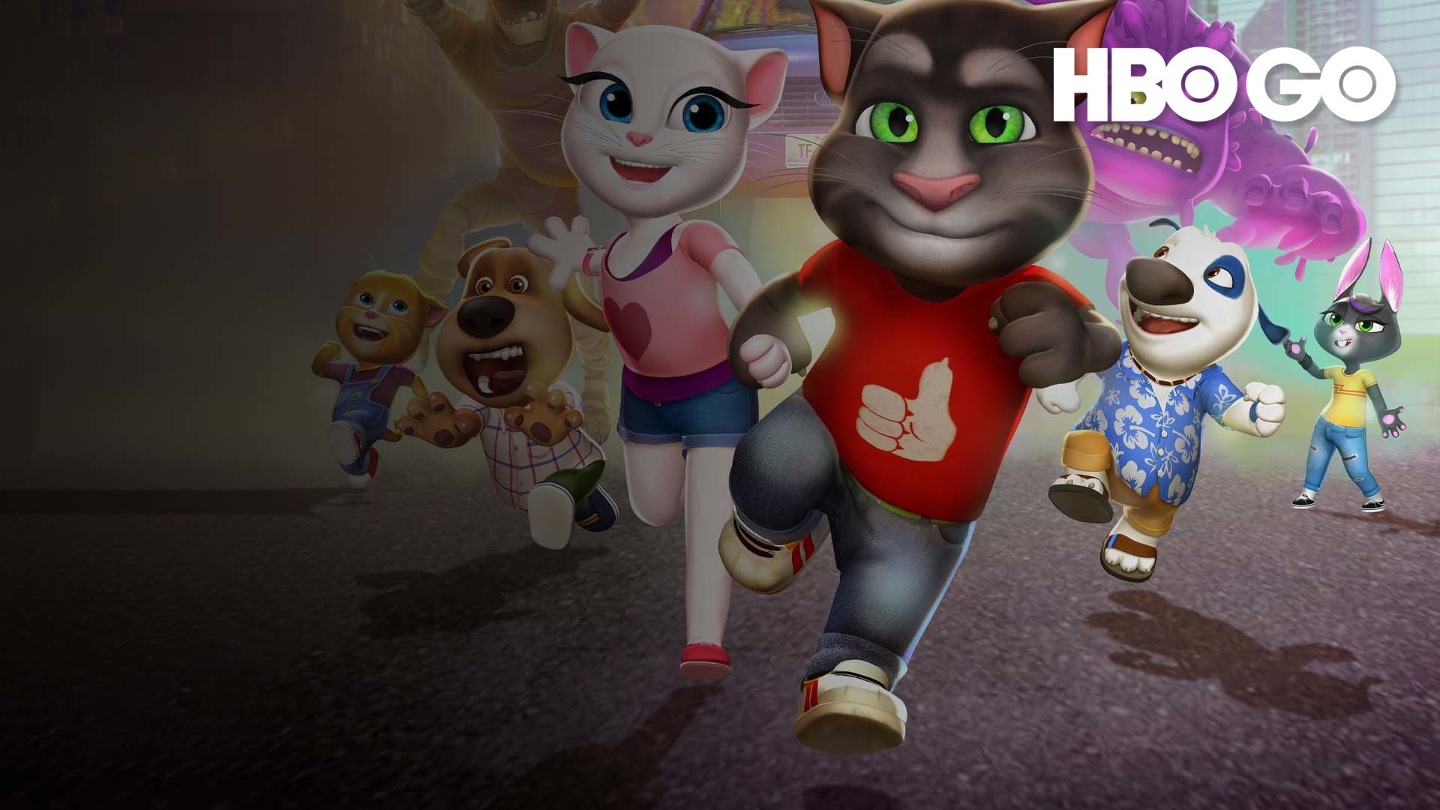 Talking Tom's on a mission to find Talking Angela, and he'll stop at nothing to get to her! His quest takes the friends straight to the heart of the mysterious Agency, where nothing is as it seems and danger lurks around every corner. Will they ever see their friend again? Or will their search end in nothing but doom?
更多
E1

會說話的湯姆貓和朋友們(第4季第1集)

Talking Tom's desperate hunt for his missing girlfriend takes the friends to a stranger place than they ever expected!

E2

會說話的湯姆貓和朋友們(第4季第2集)

Talking Angela's been found! But something's not right... She thinks she belongs in the world of the Zappers so she a...

E3

會說話的湯姆貓和朋友們(第4季第3集)

When the friends refuse to deal with Jeremy the Germ's gross behavior, the germ feels left out and decides to try bei...

E4

會說話的湯姆貓和朋友們(第4季第4集)

Talking Ben, who's been feeling useless because he's banned from working with tech, is forced to defend the garage ag...

E5

會說話的湯姆貓和朋友們(第4季第5集)

On Talking Tom's last day as Mayor, the Key to the City goes missing, so Talking Hank jumps on the case to find out w...

E6

會說話的湯姆貓和朋友們(第4季第6集)

When a mad fan threatens Talking Angela's comeback concert, Talking Tom decides the best choice to be her bodyguard i...

E7

會說話的湯姆貓和朋友們(第4季第7集)

Talking Ben has a great new plan to save "Tom and Ben Enterprises" – he's going to start the town's only ta...

E8

會說話的湯姆貓和朋友們(第4季第8集)

Talking Tom gets invited to become one of the world's top models, and he loves the sudden fame and attention.

E9

會說話的湯姆貓和朋友們(第4季第9集)

Talking Angela's shocked to learn that a popular new song by "Becca Sparkles" is actually a disc track about her!

E10

會說話的湯姆貓和朋友們(第4季第10集)

Talking Tom and Talking Ben's great new business idea to sell boxes of stuff backfires when they run out of stuff to ...

E11

會說話的湯姆貓和朋友們(第4季第11集)

When Talking Angela tries to stop the Landlord from chopping down a beloved tree, she wakes up a swarm of angry butt-...

E12

會說話的湯姆貓和朋友們(第4季第12集)

Talking Angela pretends to be a dude so she can get cast in a big new movie.

E13

會說話的湯姆貓和朋友們(第4季第13集)

Talking Ginger tags along with his teacher on a real-life monster hunt!

E14

會說話的湯姆貓和朋友們(第4季第14集)

Talking Angela's in danger when an ancient mummy starts taking out her fellow musicians before a big concert!

E15

會說話的湯姆貓和朋友們(第4季第15集)

Talking Tom forgets his anniversary with Talking Angela and struggles to find the perfect last-minute gift.

E16

會說話的湯姆貓和朋友們(第4季第16集)

A garage game night gets epic when the friends are pulled inside a cursed board game that won't let them out easily.

E17

會說話的湯姆貓和朋友們(第4季第17集)

Talking Hank's sick on his birthday, but it turns out to be the best birthday ever when his favorite cartoons come ou...

E19

會說話的湯姆貓和朋友們(第4季第19集)

When Talking Tom gets lost in space, Talking Ben needs to find a way to get rid of his anti-tech bracelet so he can s...

E20

會說話的湯姆貓和朋友們(第4季第20集)

Talking Ben's excited to get back to inventing now that his anti-tech bracelet is gone, and he starts big by making...

E22

會說話的湯姆貓和朋友們(第4季第22集)

When the CEO leaves his goldfish in charge of his company, Talking Hank steps in to translate his old pal's fishy wis...

E23

會說話的湯姆貓和朋友們(第4季第23集)

Talking Ginger and his friends enter a high-stakes competition with a big candy prize, but not everyone's playing fair.

E24

會說話的湯姆貓和朋友們(第4季第24集)

Talking Hank goes back to school to become a basketball star, but his stardom is threatened when he can't pass his cl...

E25

會說話的湯姆貓和朋友們(第4季第25集)

When Talking Tom and Friends fall into a trap, TV detectives Bongo and McGillicuddy must figure out who's behind this...

E26

會說話的湯姆貓和朋友們(第4季第26集)

Talking Angela gets pulled into another dimension, where she finds herself oddly attracted to a "bad boy" version of ...