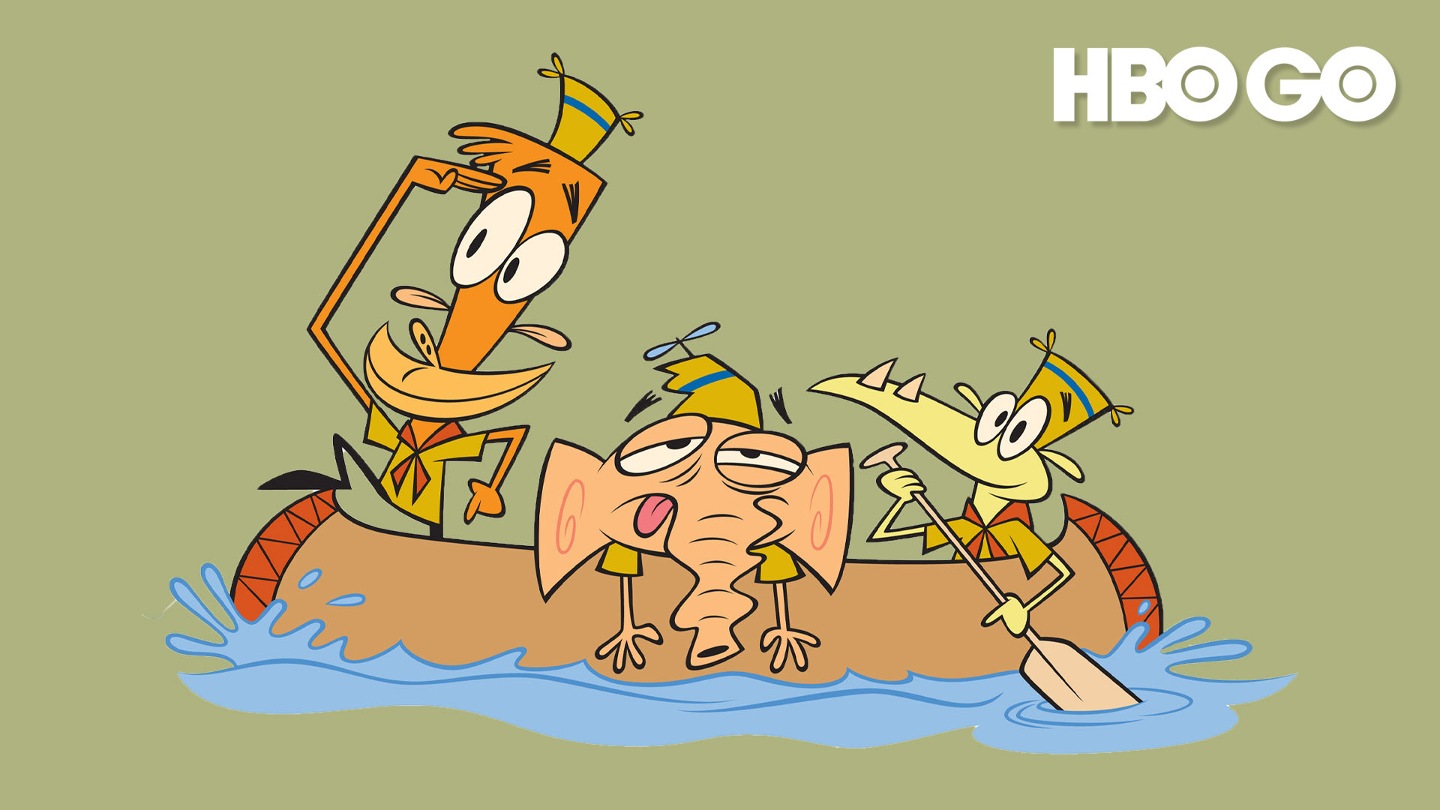 奇德尼營地被拆掉了,大家只好寄住在松鼠童軍營地,拉茲洛為了拯救營地,和同伴一起冒險進入森林,最後終於救了營地。
更多
E1

瘋狂夏令營(第3季第1集)

奇德尼營地被拆掉了,大家只好寄住在松鼠童軍營地,拉茲洛為了拯救營地,和同伴一起...

E2

瘋狂夏令營(第3季第2集)

When Lumpus becomes obsessed with catching a turkey-doodle, Lazlo does everything he can to save his favorite kind of...

E3

瘋狂夏令營(第3季第3集)

The Squirrel Scouts mistake Samson for their favorite teen idol and hunt him down like he was one of the Beatles.

E4

瘋狂夏令營(第3季第4集)

Slinkman assigns Edward the job of keeping watch over the Dung Beetles and they drive him absolutely crazy.

E5

瘋狂夏令營(第3季第5集)

When Clam wanders into Miss Mucous' yard, Raj and Lazlo are terrified that she is going to bake them into a bean scou...

E6

瘋狂夏令營(第3季第6集)

When Raj loses Clam in the forest, he covers up his mistake by convincing Lazlo that Clam has become invisible.

E7

瘋狂夏令營(第3季第7集)

Too lazy to dig his own bowling alley, Lumpus tricks Lazlo into doing, but it backfires in a big way.

E8

瘋狂夏令營(第3季第8集)

Patsy hatches a plan to sit next to Lazlo on the bus and it sends the Bean Scouts into a tailspin.

E9

瘋狂夏令營(第3季第9集)

Raj befriends an insect with an elephant shaped head and grosses the other campers out.

E10

瘋狂夏令營(第3季第10集)

Lumpus is forced to invite the Jellies for a sleepover and he gets no sleep at all!

E11

瘋狂夏令營(第3季第11集)

Samson becomes so obsessed with keeping the camp clean that he sucks all the dirt up causing the Dung Beetles to fall...

E13

瘋狂夏令營(第3季第12集)

Edward's anger issues get him in trouble again, but he learns that there is someone even angrier than he...Gretchen!

E14

瘋狂夏令營(第3季第13集)

Lazlo pretends to be 'the tusk wizard' when Raj loses his first tusk.

E15

瘋狂夏令營(第3季第15集)

The Squirrel Scouts put Slinkman through the ringer when he takes over Acorn Flats as the new Scoutmaster.

E16

瘋狂夏令營(第3季第16集)

Lazlo is determined to make the best float for the Prickly Pines parade

E17

瘋狂夏令營(第3季第17集)

Samson is continually pummeled by rubber balls until he finally decides to fight back.

E18

瘋狂夏令營(第3季第18集)

Nurse Leslie goes on an overnight hike with the Jellies and pays for it dearly.

E19

瘋狂夏令營(第3季第19集)

Edward fakes a yeti attack to attract more listeners to his radio show, then he actually gets attacked by two yetis!

E20

瘋狂夏令營(第3季第20集)

When Lumpus discovers that he and Lazlo are related he reluctantly decides to leave camp Kidney to his least favorite...

E21

瘋狂夏令營(第3季第21集)

Afraid of Gretchen, Lazlo hires Samson to 'take care of her' for him, but he is mortified to learn from a mob movie w...

E22

瘋狂夏令營(第3季第22集)

Lumpus becomes obsessed with reading Dave and Ping Pong newspaper even though it is 'for campers only'.

E23

瘋狂夏令營(第3季第23集)

Edward can't take another day of Lazlo's antics so he tries to mail himself out of Camp Kidney.

E24

瘋狂夏令營(第3季第24集)

After winning a lemonade-drinking contest, Lazlo can't find a place to pee!

E25

瘋狂夏令營(第3季第25集)

Edward proclaims it 'Edward Day' at camp, expecting everyone to worship him for the day.

E26

瘋狂夏令營(第3季第26集)

When Lazlo goes missing from Camp Kidney, a nostalgic Raj and Clam recall life at camp before and after Lazlo arrived.