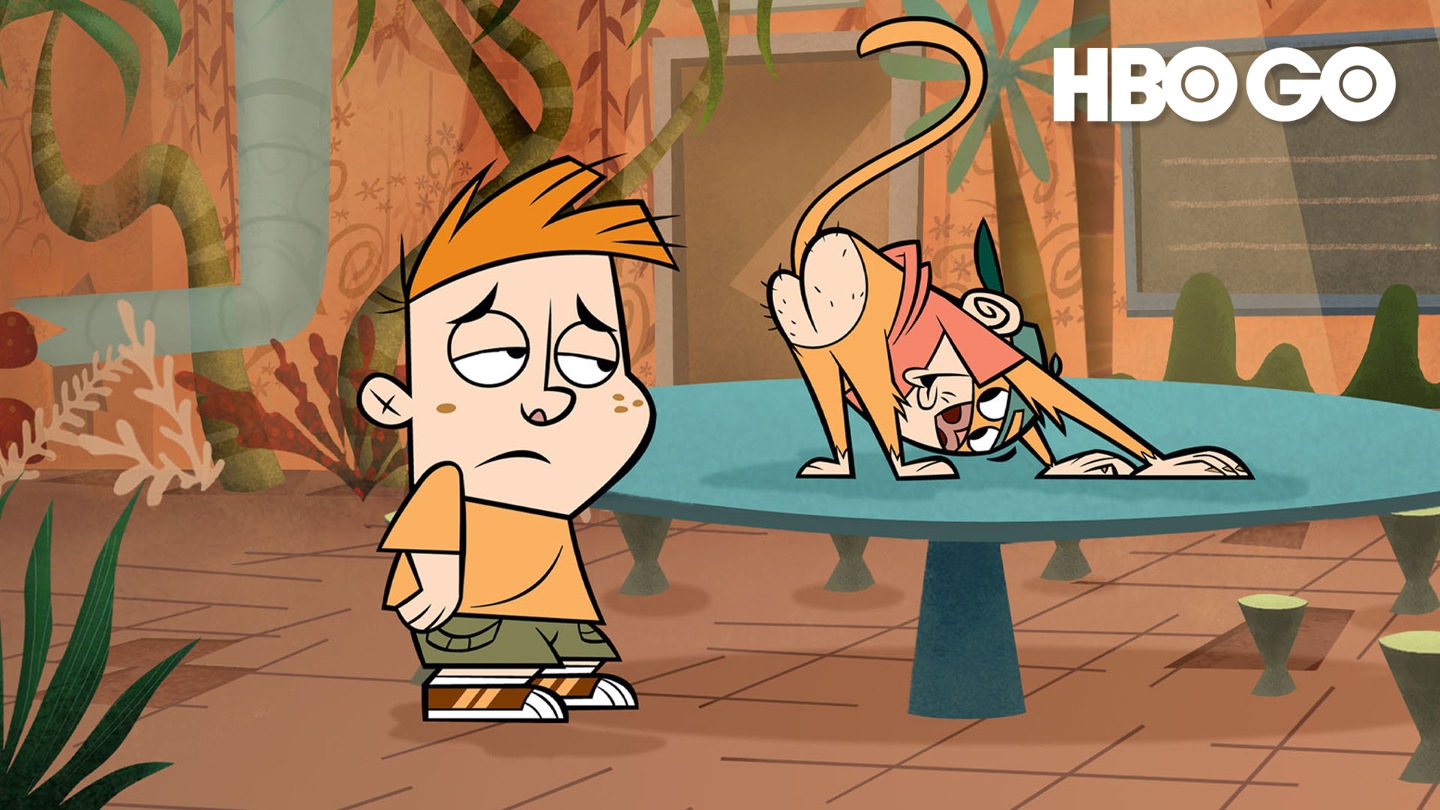 E1

我的麻吉是猴子(第4季第1集)

Adam insults Rufus Hyena, causing the chronic laugher to become a chronic cryer. Rufus' sorrow drives everyone crazy...

E2

我的麻吉是猴子(第4季第2集)

It's time for Henry to return home to Greenland, bringing pompous white tiger Alistair back to CDMS. Adam and the ga...

E3

我的麻吉是猴子(第4季第3集)

In the hope of scoring a leather jacket for Jake, Adam joins The Ferals, an after school 'club', full of tough cats, ...

E4

我的麻吉是猴子(第4季第4集)

Miss Chameleon confesses that her acting career stalled due to terrible stage fright, so Adam, Jake, Windsor and the ...

E5

我的麻吉是猴子(第4季第5集)

Due to another clerical error,Jake Spidermonkey finds out he's actually Jake Spiderplant, and is transferred to Creep...

E6

我的麻吉是猴子(第4季第6集)

The school board replaces Principal Pixiefrog with a robot, and as a result, hilarity ensues.

E7

我的麻吉是猴子(第4季第7集)

Adam's painting of Windsor turns the gorilla into a star, and leaves Adam bitter and angry about Windsor's fancy new ...

E8

我的麻吉是猴子(第4季第8集)

A sudden growth spurt makes Ingrid too tall to fit in the halls at CDMS.

E9

我的麻吉是猴子(第4季第9集)

Bull Sharkowski finally gets his braces off and, due to his extreme vanity, becomes a different kind of bully.

E10

我的麻吉是猴子(第4季第10集)

Windsor is distraught over his mother dating Mr. Mandrill.

E11

我的麻吉是猴子(第4季第11集)

Jake's desperate desire to be a part of CDMS' synchronized swim team leads to disaster and attacks by mutant 'sea sim...

E12

我的麻吉是猴子(第4季第12集)

Nurse Gazelle's dirty little secret comes out. She's forced to give up her post and become one of the students, leavi...

E13

我的麻吉是猴子(第4季第13集)

After pulling two straight weeks of all nighters before final exams, Adam goes feral.

E14

我的麻吉是猴子(第4季第14集)

Adam learns that Jake is nearly blind and convinces him to get glasses.

E15

我的麻吉是猴子(第4季第15集)

The mystery of Adam's seemingly non-existent parents reaches a frenzy, as his friends fear he has actually eaten them.

E16

我的麻吉是猴子(第4季第16集)

Jake is inspired by a guest speaker to become a mountain goat, much to the chagrin of Adam and Mr. Mandrill, who want...

E17

我的麻吉是猴子(第4季第17集)

Adam discover the only reason he's never been eaten or seriously maimed at CDMS, is because of his 'special' status.

E18

我的麻吉是猴子(第4季第18集)

Phinneas daydreams of a world where he and the Spiffies are heroic knights sent by King Pixiefrog to rescue Lady Wart...

E19

我的麻吉是猴子(第4季第19集)

A jungle girl, raised by possums, shows up at CDMS, posing a threat to Adam's status as the SHOC - Sole Human On Campus.

E20

我的麻吉是猴子(第4季第20集)

A letter to the editor makes Jake think that Adam is considering leaving CDMS. In an effort to make Adam feel more w...

E21

我的麻吉是猴子(第4季第21集)

Jake's wish to live in a real live musical comes true, after he knocks the wish granting 'David Coppertrout' out of t...

E22

我的麻吉是猴子(第4季第22集)

Jake, Adam and the gang head to Hawaii to rescue Mrs. Warthog from seemingly hungry natives during the school holiday...

E23

我的麻吉是猴子(第4季第23集)

Adam decides to spend his summer in the junior zookeeper training program at the Zooquarium, but as he quickly discov...

E24

我的麻吉是猴子(第4季第24集)

Adam's love of Thanksgiving doesn't translate to the animal world. Some ghosts haunt him and try to show him how hor...