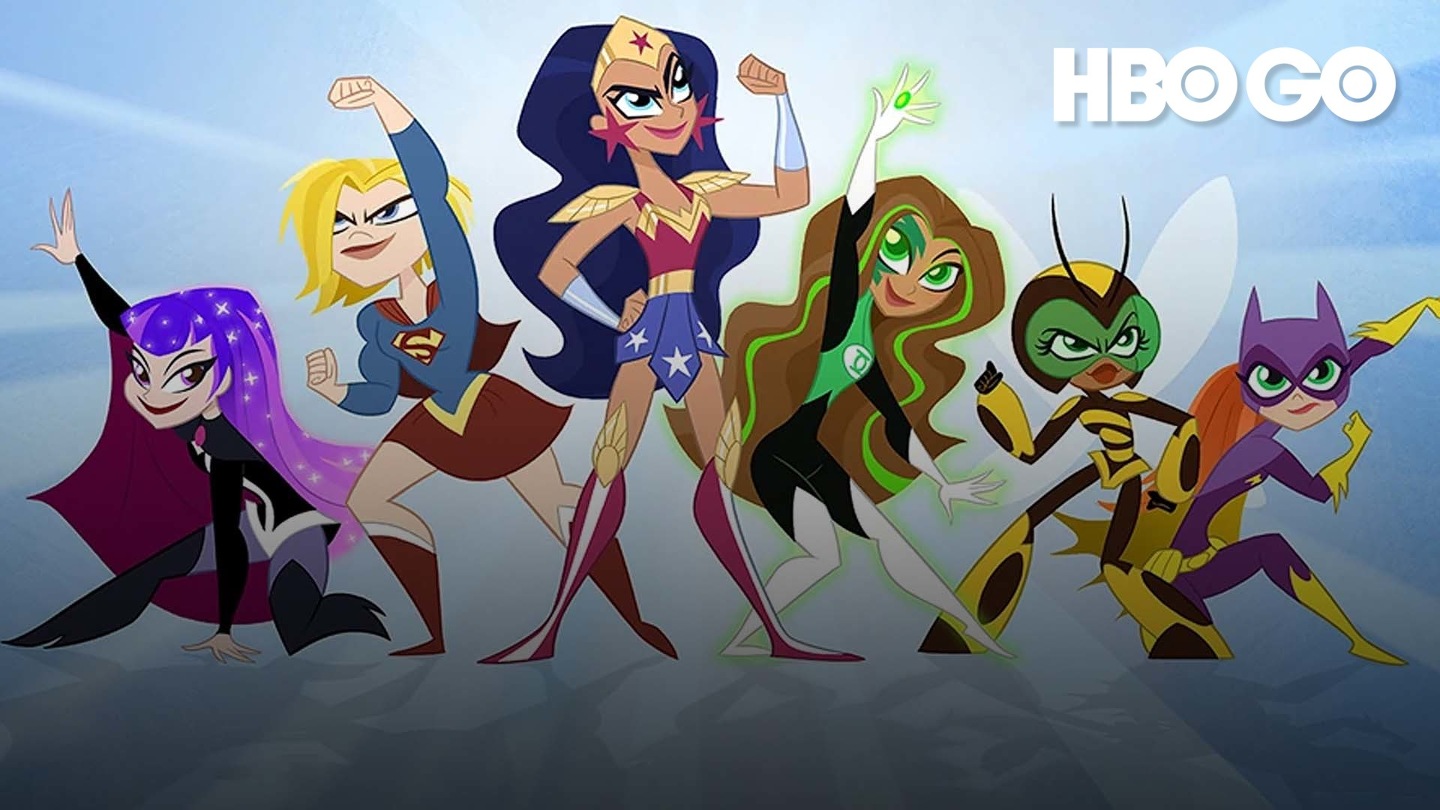 DC SUPER HERO GIRLS SHORTS 第1季
E2

DC 超級英雄小女孩(第1季第2集)

When Kara Danvers sleep-flies out of the Gordon house, it's up to Barbara Gordon to bring her back down to Earth befo...

E3

DC 超級英雄小女孩(第1季第3集)

Batgirl faces one of her greatest adversaries yet when a stray bat gets into her bedroom.

E4

DC 超級英雄小女孩(第1季第4集)

Kara Danvers needs to stop a villain but her super-girl costume is in the wash!

E5

DC 超級英雄小女孩(第1季第5集)

When Hammy the hamster gets loose in Burrito Bucket, it's up to Barbara Gordon to catch him before the health inspect...

E6

DC 超級英雄小女孩(第1季第6集)

Kara Danvers sets out for picture day at school.

E7

DC 超級英雄小女孩(第1季第6集)

Zee Zatara's magic goes haywire during her frantic attempts to make herself look good for her school picture.

E8

DC 超級英雄小女孩(第1季第8集)

Doris Zeul and Leslie Willis battle for the last candy bar in the vending machine.

E9

DC 超級英雄小女孩(第1季第9集)

The Flash encounters a variety of obstacles when he must deliver a dessert across town in under ten minutes.

E10

DC 超級英雄小女孩(第1季第10集)

Harleen Quinzel and Pam Isley end up in a super battle over the remote.

E11

DC 超級英雄小女孩(第1季第11集)

When his fishbowl breaks Garth embarks on a frantic search through Metropolis.

E12

DC 超級英雄小女孩(第1季第12集)

Zee Zatara and Oliver Queen set out to sabotage each other's advertisements.

E13

DC 超級英雄小女孩(第1季第13集)

Karen Beecher needs to get to class to preserve her perfect attendance.

E14

DC 超級英雄小女孩(第1季第14集)

Batgirl finds herself in trouble with Poison Ivy.

E16

DC 超級英雄小女孩(第1季第16集)

Jessica Cruz does battle with her own smoothie when Poison Ivy wreaks havoc on a vegan restaurant.

E17

DC 超級英雄小女孩(第1季第17集)

Supergirl takes advantage of Wonder Woman's nurturing nature.

E18

DC 超級英雄小女孩(第1季第18集)

Karen Beecher takes her new gig as hall monitor very seriously which puts her in direct conflict with cocky rule-brea...

E19

DC 超級英雄小女孩(第1季第19集)

Zatara's wants Barbara to see eye to eye with her father.

E20

DC 超級英雄小女孩(第1季第20集)

Harley Quinn wreaks havoc all over Metropolis when she finds Wonder Woman's missing Lasso of Truth.

E21

DC 超級英雄小女孩(第1季第21集)

When Barbara Gordon must improvise to save the day.

E22

DC 超級英雄小女孩(第1季第22集)

Diana Prince's first experience at the Lazarus Pit goes horribly wrong.

E23

DC 超級英雄小女孩(第1季第23集)

Jessica Cruz struggles to make it to picture day

E24

DC 超級英雄小女孩(第1季第24集)

Zee Zatara's hairstylist goes to extreme lengths to give Kara Danvers's super-hair a cut.

E25

DC 超級英雄小女孩(第1季第25集)

Batgirl's malfunctioning gadgets cause her to lose confidence in her abilities.

E26

DC 超級英雄小女孩(第1季第26集)

Kara Danvers is desperate to get to a concert but first has to serve out detention by re-shelving books in the library.

E27

DC 超級英雄小女孩(第1季第27集)

Zee Zatara struggles to entertain kids at a birthday party even when she works real magic into her act.

E28

DC 超級英雄小女孩(第1季第29集)

When Zee Zatara gets a cold her sneezing sets off uncontrollable magic bursts all over school.

E29

DC 超級英雄小女孩(第1季第29集)

Diana Prince is a distant underdog when she enters a pie-eating contest against Barry Allen and Doris Zeul.

E30

DC 超級英雄小女孩(第1季第30集)

A series of events conspire to keep Barry Allen from making it to school on time.

E31

DC 超級英雄小女孩(第1季第31集)

Zee Zatara's attempt to broaden Kara Danvers's horizons by taking her for a sushi dinner ends in disaster.

E32

DC 超級英雄小女孩(第1季第32集)

Kara Danvers is excited to see a new horror movie but must contend with a theater full of rude patrons.

E33

DC 超級英雄小女孩(第1季第33集)

Lois Lane and Jimmy Olsen find themselves pinned in the middle of a battle when Star Sapphire attacks Hal Jordan and ...

E34

DC 超級英雄小女孩(第1季第34集)

Barbara Gordon is desperate to get to the hideout beneath Sweet Justice but can't because the booth is occupied.

E35

DC 超級英雄小女孩(第1季第35集)

Apabila seluruh pasukannya kalah, Karen Beecher terpaksa kuatkan semangat untuk menang pertandingan dengan segala kem...

E36

DC 超級英雄小女孩(第1季第36集)

When the Bat-Scooter blows a tire Batgirl will do whatever it takes to get to a fight.

E37

DC 超級英雄小女孩(第1季第37集)

Barbara Gordon dan Harleen Quinzel sama-sama inginkan buku komik yang sama, tetapi tidak mahu membiarkannya menjadi s...

E38

DC 超級英雄小女孩(第1季第38集)

Doris becomes excited by the possibilities when she inadvertently injects herself with the wrong serum and becomes su...

E39

DC 超級英雄小女孩(第1季第39集)

Kara Danvers's competitive nature kicks into high gear when she can't get a single prize at the games on the pier whi...

E40

DC 超級英雄小女孩(第1季第40集)

Karen Beecher gets the last taco on Taco Tuesday but Doris Zeul will do everything in her power to make sure she does...

E41

DC 超級英雄小女孩(第1季第41集)

Jessica Cruz the only one of the girls with a car chauffeurs the others over the course of an ordinary week.

E42

DC 超級英雄小女孩(第1季第42集)

Barbara Gordon gets a message that Batgirl is needed...while she's in the middle of a very important test.

E43

DC 超級英雄小女孩(第1季第43集)

Barbara Gordon is desperate to win a prize on a punching game at the pier but just doesn't have the skills.

E44

DC 超級英雄小女孩(第1季第44集)

When Hal Jordan smashes a massive asteroid headed for Earth it fractures into hundreds of smaller asteroids that Jess...

E45

DC 超級英雄小女孩(第1季第45集)

For a school assignment Karen Beecher and Kara Danvers must team up to protect an egg from any and all dangers.

E46

DC 超級英雄小女孩(第1季第46集)

Selina Kyle and Barbara Anne Minerva both want the same high-end handbag and will do anything to get it.

E47

DC 超級英雄小女孩(第1季第47集)

Karen Beecher is psyched to see the next installment in her favorite movie franchise until Doris Zeul shows up and tr...

E48

DC 超級英雄小女孩(第1季第48集)

Barbara has to miss her shift at Burrito Bucket and her boss enlists her most responsible friend Jessica Cruz to fill...

E49

DC 超級英雄小女孩(第1季第49集)

Green Lantern (Hal) tries to impress his hero Superman with his heroing prowess.

E50

DC 超級英雄小女孩(第1季第50集)

When Babs finds a ratty old sofa that she thinks will be perfect for the hideout she recruits Karen to help her get i...

E51

DC 超級英雄小女孩(第1季第51集)

The moody and intense Katana must battle the silliest villain in Metropolis Harley Quinn in the happiest place in tow...

E52

DC 超級英雄小女孩(第1季第52集)

Lois Lane sends her intrepid photographer Jimmy Olsen out to get a picture of the Super Hero Girls in action but his ...