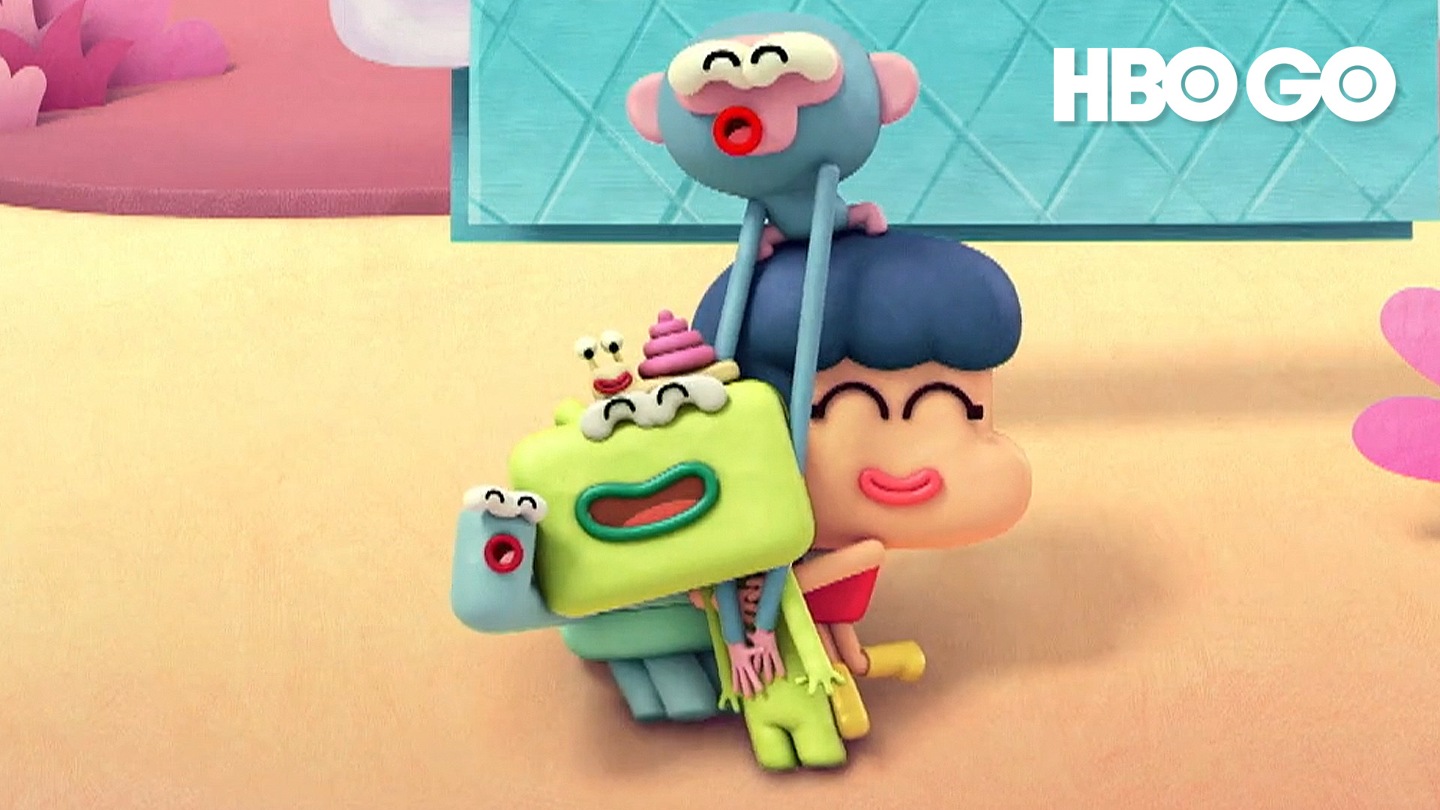 Fatou absolutely has to play with Roger who is really busy. So to get some peace and quiet the alien constructs a clone playmate-robot he calls: Roger 3000. Things quickly get out of hand though because now that he considers himself to be Fatou's super-best friend, Roger 3000 has no intentions of sharing her with anyone…especially not the real Roger!
更多
E1

外星人羅渣(第1季第1集)

Fatou wants to play with Roger who is really busy. So, the alien constructs a clone playmate-robot he calls: Roger 3000.

E2

外星人羅渣(第1季第2集)

Fatou decides to cook a cake for her father's birthday. Roger gets involved and in no time, it turns into a catastr...

E3

外星人羅渣(第1季第3集)

Fatou hasn't studied for her big end-of-the-year test given her by an itinerant teacher. She gets Roger to help her.

E4

外星人羅渣(第1季第4集)

Fatou is playing a video game with Roger, Junior and Igor. A loud argument erupts over who gets to use the joystick.

E6

外星人羅渣(第1季第6集)

Fatou has taken André the shark into her home because he is scared of the ocean and he doesn't know how to swim!

E7

外星人羅渣(第1季第7集)

During a holographic slide show, Roger goes boasting about how he has brokered peace treaties all over the universe.

E8

外星人羅渣(第1季第8集)

If she wants to be able to eat her most favorite dessert in the whole world, Fatou first has to eat her entire meal.

E9

外星人羅渣(第1季第9集)

Fatou and Roger discover an adorable little creature on the island: Groah. The little baby is an unknown animal species.

E10

外星人羅渣(第1季第10集)

Tired of not being able to play with Roger without having to hide him, Fatou decides to disguise the alien up.

E11

外星人羅渣(第1季第11集)

Fatou is sad. She would so much like to have a white Christmas. Roger can fix that with his FroZen machine.

E12

外星人羅渣(第1季第12集)

Preferring video games to Junior's poetry recital, Roger and Fatou come up with a bad excuse.

E13

外星人羅渣(第1季第13集)

Fatou wants to play outside but she can't until she cleans up her bedroom. Problem: the place is a huuuuge mess!

E14

外星人羅渣(第1季第14集)

Nadège and Paloma, who are respectively, Fatou's (very rich) aunt and cousin, appear one day for a family visit.

E15

外星人羅渣(第1季第15集)

Fatou and Roger don't dare to tell Irina that she sings like a rusty windmill, and now she is singing for the whole...

E16

外星人羅渣(第1季第16集)

Fatou has ordered a fairy wand, believing that it will give her real magical powers, but of course it doesn't...

E17

外星人羅渣(第1季第17集)

Roger's tendency to rush to conclusions becomes problematic when two retired tourists visit the island.

E18

外星人羅渣(第1季第18集)

Fatou and Roger have accidentally set a seagull nest on fire. To be forgiven, they secretly build the gulls a cabin.

E19

外星人羅渣(第1季第19集)

Roger is ankle deep in repairing his saucer, but Fatou decides to celebrate "joke day" to have fun with him.

E20

外星人羅渣(第1季第20集)

Fatou finds out that Igor and Junior have never celebrated Christmas, and she decides to change that.

E21

外星人羅渣(第1季第21集)

While Fatou is helping Roger repair his vessel one day, the crabs bring a very important part of the space craft.

E22

外星人羅渣(第1季第22集)

Fatou thinks that Roger is too serious. She discovers that bananas have a terrible effect on aliens of Roger's spec...

E23

外星人羅渣(第1季第23集)

Fatou has broken her father's favorite vase. But they've seen a map that shows where a buried treasure of vases is.

E24

外星人羅渣(第1季第24集)

嘟嘟想要做風箏,結果卻一直不順利,於是小囉出手幫忙,但是他做出了超級巨大的風箏...

E26

外星人羅渣(第1季第26集)

今晚嘟嘟一直睡不著覺,小囉想盡辦法哄她睡覺,但他越是努力…嘟嘟就越是清醒!

E27

外星人羅渣(第1季第27集)

Fatou's father hasn't made any major botanical discovery and the Plant Academy wants to cut his funding.

E28

外星人羅渣(第1季第28集)

Fatou takes part in an amateur filmmaking contest. But Roger takes control of the camera, and the movie is a total flop.

E29

外星人羅渣(第1季第29集)

Roger is sorting out all the old spare parts from saucer and stumbles on the most dangerous thing in the whole world.

E30

外星人羅渣(第1季第30集)

Spending so much time keeping Fatou and the animals from getting into trouble has led Roger to a burn-out.

E31

外星人羅渣(第1季第31集)

While watching TV, Fatou learns that the island volcano is about to erupt. She and Roger shift into panic mode.

E32

外星人羅渣(第1季第32集)

Even though her friend has forbidden her from using it, Fatou toys around with Roger's machine that clones everything.

E33

外星人羅渣(第1季第33集)

Fatou wants a TAC TAC, the new game. And since no one wants to lend her one, she decides to "borrow" it from a f...

E34

外星人羅渣(第1季第34集)

Roger wants to repair part of his space vessel using Fatou's father's computer. Total catastrophe!

E35

外星人羅渣(第1季第35集)

After having helped out Fatou and other friends, Roger is depressed. He would have liked a bit more recognition.

E36

外星人羅渣(第1季第36集)

A rollicking TV session with Roger and Fatou fighting over the remote. Fatou finally wins in the end.

E37

外星人羅渣(第1季第37集)

Fatou, sick and tired of her father, has decided to live with Roger. In her new life she will be "free".

E38

外星人羅渣(第1季第38集)

Fatou and Roger can't understand why, but today everybody is avoiding them.

E39

外星人羅渣(第1季第39集)

Fatou's father has to go to a conference. Our heroes are going to spend a TV evening . But things start going haywire.

E40

外星人羅渣(第1季第40集)

Not to hurt his mind, Roger and Fatou let win Charles-Henri the snail in a race, but he defies a dolphin in the water.

E41

外星人羅渣(第1季第41集)

在看了一部充滿特技動作的電影後,嘟嘟決定要成為特技女郎。膽子小的小囉很快就幫她...

E43

外星人羅渣(第1季第43集)

今天小囉和嘟嘟一如往常熱心助人,不論朋友的要求多麼無厘頭或多無用都會點頭說好。...

E44

外星人羅渣(第1季第44集)

在與嘟嘟組隊踢足球輸給了伊伊和小猩後,覺得受辱的小囉決定用增加體能的機器來作弊...

E45

外星人羅渣(第1季第45集)

嘟嘟發現小囉有個祕密。她想盡辦法想知道祕密到底是什麼,並廣邀所有動物加入她的任...

E46

外星人羅渣(第1季第46集)

嘟嘟害小囉沉迷在平板電腦的遊戲中。她試著幫小囉戒掉成癮症。但臨陣脫身反而會有反...

E47

外星人羅渣(第1季第47集)

沃特請嘟嘟照顧小猩,不要讓他被伊伊帶壞,並且讓這隻小猴子學著跟其他人一樣玩樂,...

E48

外星人羅渣(第1季第48集)

Following a mess-up by our heroes, Gilbart, an annoying teenage alien, finds himself stuck in Igor's body.

E49

外星人羅渣(第1季第49集)

Roger fixes his saucer but it can't go into outer space. Fatou is convinced that Roger is going to return to his ga...

E50

外星人羅渣(第1季第50集)

小猩抱怨嘟嘟每次都遲到,所以嘟嘟請小囉幫她做一個絕對不會出錯的鬧鐘。不幸的是,...

E51

外星人羅渣(第1季第51集)

不斷被嘟嘟和島上的動物找來幫忙做決定的小囉開始出現短路。從現在起,他無法幫助他...

E52

外星人羅渣(第1季第52集)

嘟嘟決定為安德雷舉辦驚喜派對。但是在安德雷和小囉發生一場誤會後,安德雷卻決定到...

E53

外星人羅渣(第1季第53集)

嘟嘟該打破傷風疫苗了,但是她好害怕打針。她請小囉幫忙,結果他為她找來了疫苗機。...

E54

外星人羅渣(第1季第54集)

小囉的氣候機X引發了熱浪,爸爸要嘟嘟戴上一頂可笑的帽子(但他卻非常喜愛)。這讓...

E55

外星人羅渣(第1季第55集)

在一次闖禍後,嘟嘟和小囉必須打造好笑的喜劇秀,供莫莫怪獸欣賞。這群怪獸笑點可不...

E56

外星人羅渣(第1季第56集)

在把燈塔開開關關太多次之後,嘟嘟把燈塔的燈泡給燒壞了。真是個大麻煩,她必須趕在...

E57

外星人羅渣(第1季第57集)

小囉和嘟嘟在玩遊戲的時候大吵了一架。兩人各自去找其他好友,但再怎麼樣就是合不來...

E58

外星人羅渣(第1季第58集)

Because of one of Fatou's mess-ups, André realizes that his fin is small and it depresses him.

E59

外星人羅渣(第1季第59集)

In the middle of a game with Roger, Fatou runs off as if an emergency had just occurred. But she doesn't return.

E60

外星人羅渣(第1季第60集)

嘟嘟長了頭蝨,小囉堅持要等她治好了才肯跟她玩。問題是,嘟嘟深信爸爸給她的除蝨洗...

E61

外星人羅渣(第1季第61集)

Fatou is hot as she vacuums the ground. She asks Roger if he can invent an object to cool her down.

E62

外星人羅渣(第1季第62集)

小囉救了娜娜,避免她撞上船。為了報答,娜娜想做點什麼事來答謝他,但是巨大又笨重...

E63

外星人羅渣(第1季第63集)

Roger and Fatou have gone overboard with the iPad, so much so that after a marathon binge, they have almost gone blind!

E64

外星人羅渣(第1季第64集)

Roger and Fatou flatten a rare plant that Fatou's dad has just discovered. Luckily Roger has a solution: Plantoraga!

E65

外星人羅渣(第1季第65集)

Roger tells Fatou a stupid joke because Roger is a terrible joke teller, but Fatou doesn't dare tell him.

E66

外星人羅渣(第1季第66集)

Roger has finally managed to repair his flying saucer. Fatou who is devastated concocts a plan with Roger 3000.

E67

外星人羅渣(第1季第67集)

Fatou is fed up! Why can't she dream of Santa Claus, presents? Her nights are haunted by the multiplication tables!

E68

外星人羅渣(第1季第68集)

Roger, who is overbooked, starts making reckless promises, and helping everybody on the island. Except Fatou.

E69

外星人羅渣(第1季第69集)

Fatou can't reach a jar on the top shelf and asks Roger to invent a machine that will make her grow. But she has pl...

E70

外星人羅渣(第1季第70集)

Roger is sick and tired of having no authority over the animals as they go about doing whatever they want.

E71

外星人羅渣(第1季第71集)

Roger has built a robot-lawnmower, turned on and off with a secret password. While tuning it, Roger gets electric shock.

E72

外星人羅渣(第1季第72集)

To get a trampoline, Fatou has to show that she can open a pineapple that has been genetically modified by her father

E73

外星人羅渣(第1季第73集)

Tired that Fatou doesn't understand all her responsibilities, Roger decides to change lives with her for a few hours.

E74

外星人羅渣(第1季第74集)

Irina accuses Fatou of having peed in the ocean. Fatou denies it. But Irina is convinced she is guilty.

E75

外星人羅渣(第1季第75集)

Roger embarrasses himself in front of Walter. And despite Fatou who gets him simply to apologize, he wants to disappear.

E76

外星人羅渣(第1季第76集)

Fatou is very talkative, she jumps from one subject to another, so much so that all of her friends avoid her.

E77

外星人羅渣(第1季第77集)

Fatou puts off everything she can do today... She even contaminates Roger with the procrastination bug.

E78

外星人羅渣(第1季第78集)

Fatou is playing tag with Roger, and both are having a gas! This is so funny that Fatou wants to live this moment again.