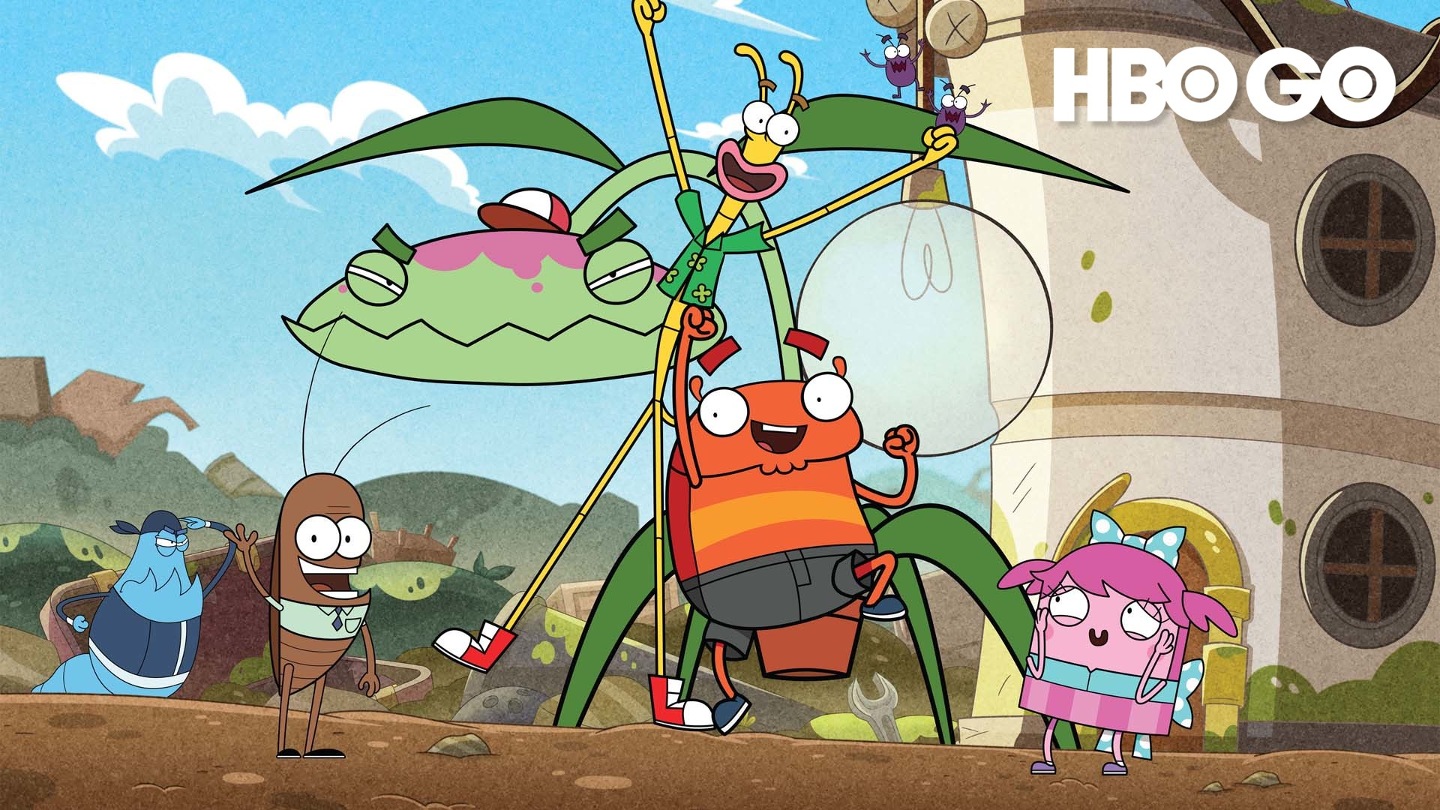 Buck and Buddy are lusting after a solitary apple growing on a tree, so when it falls off the tree,and falls into the ocean, they eagerly jump after it. Soon they're swept out to open water, and they're hungry. It's a good thing they have the apple! But if they eat it...they won't have anything to float on. Decisions, decisions...
更多
E1

BUCK & BUDDY S1 01: ROLL WITH IT

Buck and Buddy are lusting after a solitary apple growing on a tree, so when it falls off the tree, and falls into th...

E2

BUCK & BUDDY S1 02: THE WALL NUTS

Buck has built a masterpiece in the shape of the most perfectly, humungous ball of dung.

E3

BUCK & BUDDY S1 03: NIGHT OF THE LIVING BED BUGS

After finding a mysterious tube of glowing green goo, Buck and Buddy spill it in an old Bedbug graveyard full of dead...

E4

BUCK & BUDDY S1 04: THE BUGS WHO WOULD BE KINGS

When Buddy discovers what looks like a Pharaoh's hat buried in a mysterious underground chamber he puts it on to en...

E5

BUCK & BUDDY S1 05: THREE BUGS AND A LARVAE

After some foolish antics by Buck, a larvae lands in their laps - quite literally - and Amy decides that they have to...

E7

BUCK & BUDDY S1 07: CLOWNING AROUND

There's something wicked lurking in the sewers and one by one each of the bugs from Bug Alley get tempted into the ...

E8

BUCK & BUDDY S1 08: THE PUPPET MASTERS

During a battle, Venus gets knocked unconscious.

E9

BUCK & BUDDY S1 09: WEAPONS OF MASS DISTRACTION

The ultimate weapon has been created by the Aphids and whilst the Pharaoh has plans for world domination.

E10

BUCK & BUDDY S1 10: NEIGHBOUR PAINS

It's not easy living next door to Buck and Buddy, and for Roger, after one disaster too many its just all too much,...

E11

BUCK & BUDDY S1 11: THE SACRIFICE

After a long stretch with no rain, the Aphid Pharaoh decides that they must make a sacrifice to the rain god.

E12

BUCK & BUDDY S1 12: FOUNTAIN OF FIZZ

The aphids have discovered what happens when you add candy to fizzy pop and its spectacular!

E13

BUCK & BUDDY S1 13: BUFF BUDDY

Whilst Buck is more interested in pumping his lilo, Buddy is inspired to pump some iron and before they know it, Budd...

E14

BUCK & BUDDY S1 14: TROUBLE FEATURE

Buck and Buddy find an old cell phone and discover that they can play movies on it.

E15

BUCK & BUDDY S1 15: HIGH FLYING

Buck, Buddy and Amy engage in a contest to see whose paper airplane can fly the furthest.

E16

BUCK & BUDDY S1 16: TWO HEADS ARE WORSE THAN ONE

Childish bickering between Buck and Buddy result in them toppling into the Toxic Pea Soup Lake at the same time light...

E17

BUCK & BUDDY S1 17: NO PARKOURING

Buck and Buddy have discovered the joyous thrilling exhilaration of parkour!

E18

BUCK & BUDDY S1 18: SURPRISE!

It's Amy's birthday and she's super excited, but no one else has remembered….or have they?

E19

BUCK & BUDDY S1 19: BEETLE-ADE

One afternoon experimenting with new ingredients, Buck and Buddy make a startling discovery— a concoction that's ...

E20

BUCK & BUDDY S1 20: SOCK ON!

While doing a little light base-jumping in the Mitey Mounds, Buck and Buddy run across the disgusting, encrusted rema...

E21

BUCK & BUDDY S1 21: APHIDS UNLEASHED

Tired of being victimized by the ambitious Pharaoh and his Aphids, Buck and Buddy hatch a plan to catch the Pharaoh i...

E22

BUCK & BUDDY S1 22: SANDCASTLES IN THE SUN

Its a seaside battle as Buck and Buddy each try to out do each other with their sandcastle building.

E23

BUCK & BUDDY S1 23: ACID REDUX

A new food source lands in the middle of Toxic Pea Soup Lake, and the battle is on to get there first.

E24

BUCK & BUDDY S1 24: MAGNETIC PERSONALITY

Buck and Buddy find an old and fairly powerful magnet in the sand of Wishy Washy Bay.

E25

BUCK & BUDDY S1 25: BUDDY FROM BEYOND

After one of their adventures goes wrong, a giant microwave falls on top of Buddy and he doesn't reappear. Buck, Am...

E26

BUCK & BUDDY S1 26: TOUPEE TOUCHÉ

Roger the Roach shows up one morning wearing a gigantic pompadour man-wig – acting like everything is completely no...

E27

BUCK & BUDDY S1 27: HOUSE MOVING

When most people move house, they don't take their house with them!

E28

BUCK & BUDDY S1 28: BROKEN WINDOW

SMASH! Rogers window is broken and the likely suspects deny all knowledge of the event.

E29

BUCK & BUDDY S1 29: HYPNO-LETCH

A boardgame spinner wrecks havoc for Letch when Buck and Buddy discover that they can hypnotise him with it!

E30

BUCK & BUDDY S1 30: THE BUCKET

Its hot….really hot and one bug has a monopoly over the one and only water source in Bug Alley.

E31

BUCK & BUDDY S1 31: THE NEW GUY

Pharaoh has had enough of living with his mindless minions, and so he decides to start anew and moves into Bug Alley.

E32

BUCK & BUDDY S1 32: PICTURE PERFECT

The Pharaoh has been wanting a new portrait of himself and takes Buddy to the Pyramids of Stako and makes him paint a...

E33

BUCK & BUDDY S1 33: MUSIC BOX DANCE, ER...

A game of Extreme Hide and Seek in Auto Tunes causes a junkslide which unearths a still-functional music box… Toppe...

E34

BUCK & BUDDY S1 34: MAD GENIUS

A zap on the head leaves Buck with a nasty, new lump—and genius-level IQ!

E35

BUCK & BUDDY S1 35: IF YOU BUILD IT, THEY WILL GO

A jamming session goes awry when Buck decides to upstage Buddy, who in turn decides to upstage him.

E36

BUCK & BUDDY S1 36: BUDDY'S BUDDY

The ever-friendly Buddy makes a new friend down at Wishy Washy Bay – a hermit crab who loves to play and goof around.

E37

BUCK & BUDDY S1 37: BUDDY'S GOO SHOES

Buddy avoids coming to a sticky end when he walks in a sticky substance and manages to evade the jaws of Venus.

E38

BUCK & BUDDY S1 38: MUMMY'S BOY

Buck and Buddy sneak into an unguarded Pyramid one day only to wake up an ancient, unspeakable evil that's been lay...

E39

BUCK & BUDDY S1 39: WASTE SIDE STORY

It's musical mayhem in the Autotunes wasteland.

E40

BUCK & BUDDY S1 40: TEETH

Through a series of events, Venus ends up at the bottom of Wishy Washy Bay – just as swimming season starts.

E41

BUCK & BUDDY S1 41: INFLATED OPINIONS

Buck gets jealous over Buddy's new pogo stick and ends up using Roger's inflatable chair in retaliation, only for...

E42

BUCK & BUDDY S1 42: BUDDYZILLA

After a gardening experiment gone wrong, Buddy is supersized and causing all sorts of damage.

E43

BUCK & BUDDY S1 43: IN THE WEEDS

Buck and Buddy decide to do something helpful for Roger for once—spruce up his garden!

E44

BUCK & BUDDY S1 44: HICCUPS AND DOWNS

Buck has the hiccups and they're spoiling all sorts of fun for him and Buddy. So Buddy decides he has to help his f...

E45

BUCK & BUDDY S1 45: WET WORLD

Buck and Buddy see a crate of food floating in the ocean- wow! But how to get to it?

E46

BUCK & BUDDY S1 46: FAN-TASTIC

Buck and Buddy find an old handheld electric fan, the kind powered by an AA battery.

E47

BUCK & BUDDY S1 47: BUZZ OFF!

An unopened can of coffee washes up on the shore of Wishy Washy Bay, bringing a whole new buzz to the bugs.

E48

BUCK & BUDDY S1 48: THE NEW LETCH

Buck and Buddy sneak toward Letch's pool, ready to play a prank but as they approach they see something truly distu...

E49

BUCK & BUDDY S1 49: TOP HAT BUDDY

A fancy new hat turns Buddy into a real gentlemen and opens all sorts of new doors in Bug Alley society.

E50

BUCK & BUDDY S1 50: ROBO BUDDY

An old toy robot brings some fun revenge to Autotunes for Buck and Buddy when they realise that it's a perfect fit ...

E51

BUCK & BUDDY S1 51: THE PHARAOH STRIKES BUCK

After another harebrained scheme, Pharaoh throws Buck into the pyramid's dungeon.

E52

BUCK & BUDDY S1 52: BUG BALL

It's the annual Bug Alley softball game, and Buck, Buddy, Amy, Roger and the other Bug Alley bugs are having fun in...

E53

BUCK & BUDDY S1 53: MINER MAYHEM

Buck and Buddy invent a metal detector with a powerful rare earth magnet and instantly turn into weirdly obsessed Met...

E54

BUCK & BUDDY S1 54: BORDER CONTROL

Buck and Buddy childishly dispute the dividing line between their two houses, and rush to build a wall made from junk.

E55

BUCK & BUDDY S1 55: LIGHT FIGHT

It's the winter holiday season and Roger has made a startling discovery - a string of unbroken Fairy Lights in Auto T...

E56

BUCK & BUDDY S1 56: THE BUG WHO CRIED VENUS

Buddy's regular stories about his trips to The Danger Zone make the residents of Bug Alley resistant to his warnings.

E57

BUCK & BUDDY S1 57: COLD GOLD

It is deep winter and the Aphids are staging their winter Olympics.

E58

BUCK & BUDDY S1 58: BUCK VERSUS BUDDY

A mysterious comet lands in Bug Alley, making an inquisitive Buck and Buddy super powered!

E59

BUCK & BUDDY S1 59: LOCKED BOX OF MYSTERY

B&B find a locked cash tin, and they each have fantasies about what it might contain. They need to get it open.

E60

BUCK & BUDDY S1 60: BUCKS ARK

There's a huge downpour and Bug Alley is flooded!