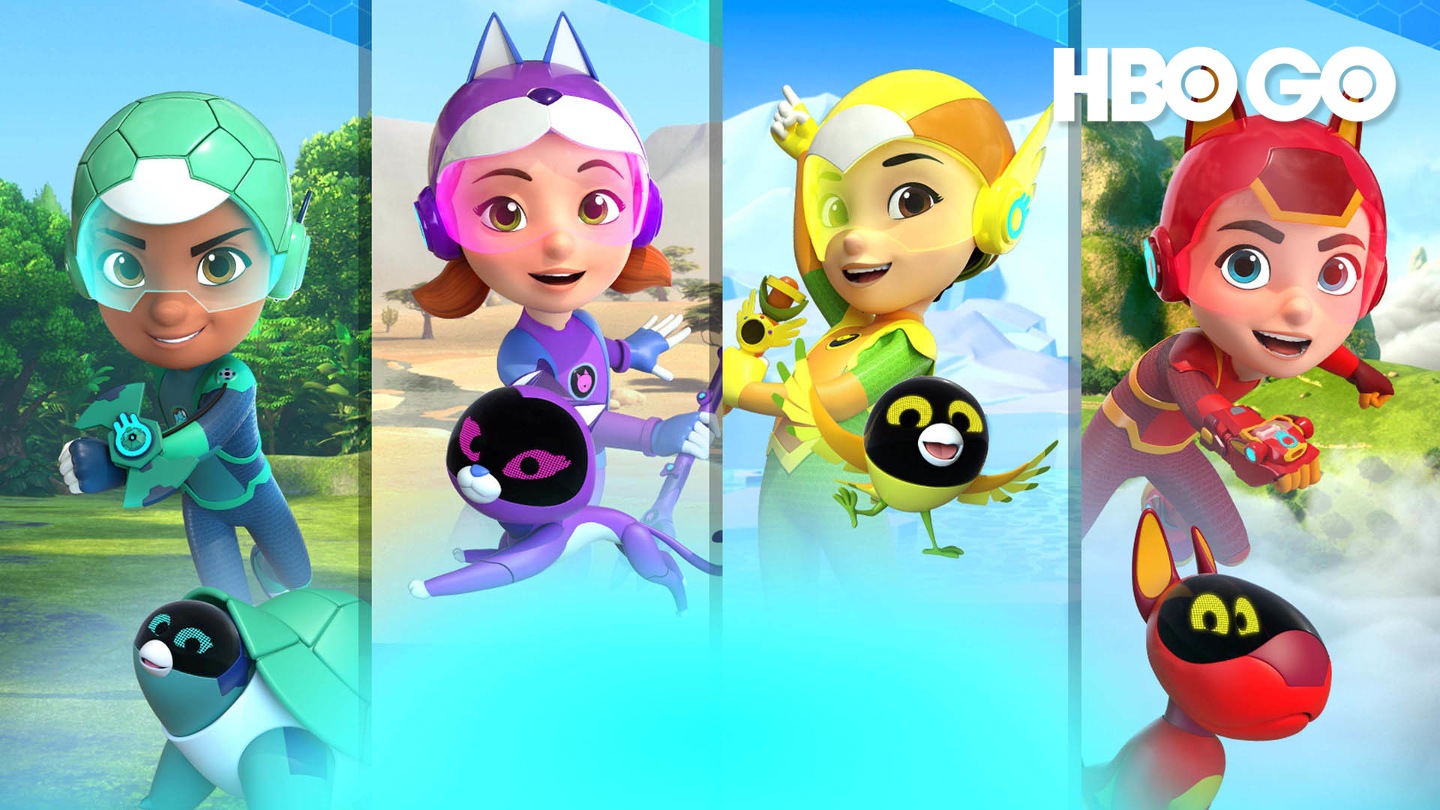 When Emma helps a lost and wounded Cheetah cub, Kitt-10 gets jealous, complicating the team's mission to reunite the whole Cheetah family.
更多
E1

PETRONIX DEFENDERS S1 01: MISSION: CHEETAH RESCUE

When Emma helps a lost and wounded Cheetah cub, Kitt-10 gets jealous, complicating the team's mission to reunite th...

E2

PETRONIX DEFENDERS S1 02: MISSION: LION RESCUE

The Petronix Defenders think Emma and Kitt-10 are perfect for a big cat rescue, but they need to overcome their fear ...

E3

PETRONIX DEFENDERS S1 03: MISSION: ZEBRA RESCUE

Matt's independent streak hits a wall when he sets out on solo-mission to rescue a Zebra.

E4

PETRONIX DEFENDERS S1 04: MISSION: MEERKAT MOB RESCUE

When MacTrapp and his Flunkies try to capture one meerkat, they end up digging up and destroying their whole habitat....

E5

PETRONIX DEFENDERS S1 05: MISSION: PENGUIN COLONY RESCUE

When Emma is put in charge of a mission, she finds it difficult to admit her nervousness to the rest of the team, put...

E6

PETRONIX DEFENDERS S1 06: MISSION: EMPEROR PENGUIN RESCUE

When Princess Petswiper makes her new pet penguin "fly", Tim doesn't feel like he can help the team since he'...

E7

PETRONIX DEFENDERS S1 07: MISSION: CARIBOU RESCUE

When Tim gets overly excited to reunite a caribou calf with its herd, he doesn't pay attention to his surroundings, c...

E8

PETRONIX DEFENDERS S1 08: MISSION: SNOWY OWL RESCUE

When a pair of snowy owls are captured by The Ringmaster, Paul-E needs to learn the art of stealth to help save them.

E9

PETRONIX DEFENDERS S1 09: MISSION: ERMINE RESCUE

Matt is so intent on his own ideas that he doesn't take into account Tim's clever idea of using Barney as an ally...

E10

PETRONIX DEFENDERS S1 10: MISSION: MACAW RESCUE

When Jia tries to prove that Paul-E has the best move for this mission, she learns the strongest move is actually wor...

E11

PETRONIX DEFENDERS S1 11: MISSION: HUSKY DOG RESCUE

When Princess Petswiper steals a team of racing Huskies, Matt takes charge of the rescue because with PUP-E he surely...

E12

PETRONIX DEFENDERS S1 12: MISSION: MUSTELA RESCUE

Always test our new gadget first! But, remember, nothing (not even cool gadgets) replace teamwork.

E13

PETRONIX DEFENDERS S1 13: MISSION: HARP SEAL RESCUE

When Emma gets upset about a forgotten playdate, Jia thinks her friend is too sensitive for a hero, but Jia's about t...

E14

PETRONIX DEFENDERS S1 14: MISSION: CHAMELEON RESCUE

Jia isn't thrilled about helping out a chameleon because she thinks it's strange looking - and kind of icky! But when...

E15

PETRONIX DEFENDERS S1 15: MISSION: FOX PUP RESCUE

When the Petronix Defenders try to return a little Fox Pup back to the wild, Pup-E becomes so attached to his new fri...

E16

PETRONIX DEFENDERS S1 16: MISSION: RABBIT RESCUE

When a wild Rabbit goes missing, the team must get it back from the thieving Ringmaster, who wants to use it in her m...

E17

PETRONIX DEFENDERS S1 17: MISSION: RUSTY SPOTTED CAT RESCUE

When Princess Petswiper swipes a Rusty Spotted Cat, it's the Petronix Defenders to the rescue. But their mission is...

E18

PETRONIX DEFENDERS S1 18: MISSION: CAPUCHIN MONKEY RESCUE

When MacTrapp (and his Flunkies) try to steal a Capuchin Monkey, the Monkey turns the tables and creates a world of t...

E19

PETRONIX DEFENDERS S1 19: MISSION: CONDOR RESCUE

When the Petronix Team goes to the mountains of Peru to rescue a Condor from mean MacTrapp, Jia pretends to know more...

E20

PETRONIX DEFENDERS S1 20: MISSION: ANDEAN BEAR RESCUE

When Princess Petswiper carelessly litters, she attracts a Brown Bear who comes foraging, putting him at risk, along ...

E21

PETRONIX DEFENDERS S1 21: MISSION: SNOW LEOPARD RESCUE

When MacTrapp captures a Snow Leopard – a big cat known as the Ghosts of the Mountain – the Petronix Defenders us...

E22

PETRONIX DEFENDERS S1 22: MISSION: WOLF PUP RECUE

When MacTrapp captures a Wolf Pup, the Petronix Team is on the scene! But Matt is having a rough day - which gets wor...

E23

PETRONIX DEFENDERS S1 23: MISSION: LLAMA RESCUE

When Jia makes a move on her own without being considerate of her teammates, she threatens the mission, and will lear...

E24

PETRONIX DEFENDERS S1 24: MISSION: POLAR BEAR RESCUE

Emma and her Kitten-Bot get themselves into trouble when they arrive for a mission unprepared.

E25

PETRONIX DEFENDERS S1 25: MISSION: GORILLA RESCUE

When Danny MacTrapp captures a Silverback Gorilla, Emma needs to learn how to manage her anger in order to help her t...

E26

PETRONIX DEFENDERS S1 26: MISSION: LEMUR RESCUE

When The Ringmaster steals the leader of a troupe of Lemurs so the others will follow, the Petronix Defenders doubt t...