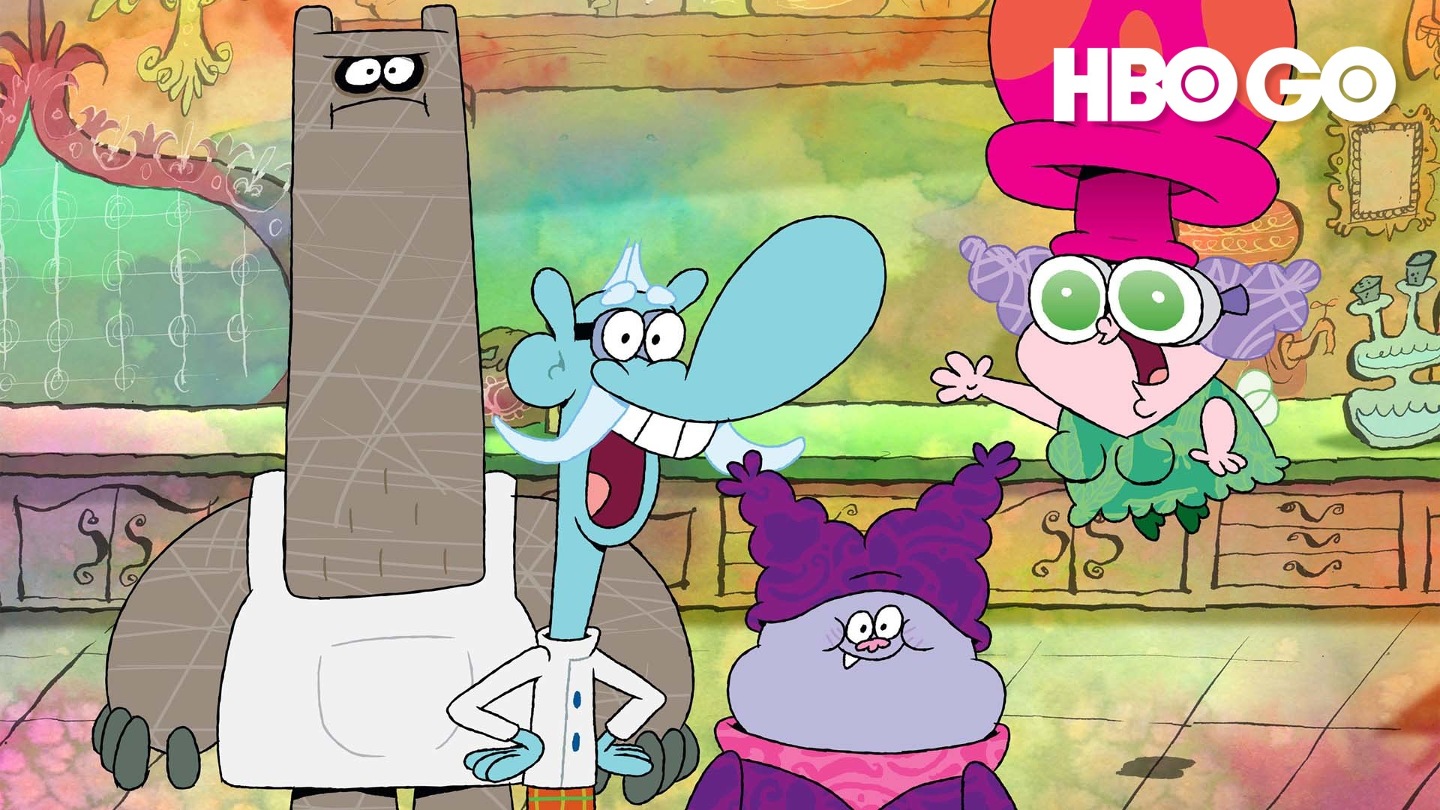 E1

愛吃鬼巧達(第1季第1集)

When Chowder's love of thrice cream constantly disrupts work, Mung cooks up a way to break his sweet obsession.

E2

愛吃鬼巧達(第1季第2集)

After Truffles feels like she's put on a little weight, she demands that the whole company go on a diet. It's a battl...

E3

愛吃鬼巧達(第1季第3集)

If Chowder can survive making a very complicated dish, he's on his way to becoming a chef.

E4

愛吃鬼巧達(第1季第4集)

When Panini sets her love-struck eyes on Chowder, he tries every trick he can think of to convince her he's not her b...

E5

愛吃鬼巧達(第1季第5集)

Chowder learns that messing with Truffles' game night means certain doom.

E6

愛吃鬼巧達(第1季第6集)

Kimchi whisks one of Mung's smelliest dishes away to a romantic setting on top of the catering company.

E7

愛吃鬼巧達(第1季第7集)

When Mung is forced to spend the day in Chef Certifrycation school, he butts heads with a fickle instructor.

E8

愛吃鬼巧達(第1季第8集)

In order to cook the performing food Sing Beans, the gang has to stay up all night as the dish cooks.

E9

愛吃鬼巧達(第1季第9集)

Chowder is forced to swallow his new gum before Truffles finds out he didn't buy enough to share. Soon all of Marzipa...

E10

愛吃鬼巧達(第1季第10集)

When Chowder discovers a lonely monster in the forest, the whole gang soon has to find a way to escape from their emo...

E11

愛吃鬼巧達(第1季第11集)

During a seemingly normal delivery, Chowder's gut instincts lead him and Mung on a non-stop adventure.

E12

愛吃鬼巧達(第1季第12集)

An unexpected outlaw unwittingly turns the catering company into his hideout.

E13

愛吃鬼巧達(第1季第13集)

When Chowder unknowingly fills a dish with poison, Mung must spend the day keeping the tainted food away from the cit...

E14

愛吃鬼巧達(第1季第14集)

Payday is always Shnitzel's favorite day. But it becomes the worst day of his life when he's forced to take Chowder a...

E15

愛吃鬼巧達(第1季第15集)

Chowder gives Gazpacho a hand in preparing for his big comedy debut. But Chowder's poor penmanship threatens to turn ...

E16

愛吃鬼巧達(第1季第16集)

When Mung and Ms. Endive unveil the same dish at Marzipan City's biggest food fair, it's an all out war to decide who...

E17

愛吃鬼巧達(第1季第17集)

When a sour berry sends Chowder on a strange journey into his own mouth, he finds himself on a mission to save his ta...

E18

愛吃鬼巧達(第1季第18集)

When Truffles' bad temper causes Mung's fruit creatures to stop making juice, he locks her up with an ultimatum: make...

E19

愛吃鬼巧達(第1季第19集)

Feeling Chowder's been spending too long in the kitchen, Mung forces him to play with the other kids. Beset by kisses...

E20

愛吃鬼巧達(第1季第20集)

Truffles gives Mung the cold shoulder after he forgets their 450th wedding anniversary. With Mung too sad to cook, Ch...

E21

愛吃鬼巧達(第1季第21集)

When Chowder accidentally puts Mung into a deep sleep, he and Shnitzel must try and wake him before Truffles finds out.

E22

愛吃鬼巧達(第1季第22集)

Chowder thinks he's finally become helpful when he discovers a secret, magic spice.

E23

愛吃鬼巧達(第1季第23集)

In order to get a rare fruit from Endive, Mung and Chowder become her servants for the day.

E24

愛吃鬼巧達(第1季第24集)

When Mung's best customer enlists Chowder to be his valet for the day, Chowder soon realizes he's met the one person ...

E25

愛吃鬼巧達(第1季第25集)

Chowder, Mung and Shnitzel just want to spend a nice day at the beach.

E26

愛吃鬼巧達(第1季第26集)

When Chowder knocks his internal clock out of whack, he becomes an unstoppable sleep eater!

E27

愛吃鬼巧達(第1季第27集)

Panini tricks Chowder into nursing an injured bluenana.

E28

愛吃鬼巧達(第1季第28集)

Shnitzel trains to revive his muscles and lift the heaviest object around.

E29

愛吃鬼巧達(第1季第29集)

Chowder and Shnitzel race against time when delivering a heavy order to a giant before it's freed.

E30

愛吃鬼巧達(第1季第30集)

The gang tries to get rid of Reuben, who is extorting the company.

E31

愛吃鬼巧達(第1季第31集)

Chowder accidentally throws his hat out of Mung's building and then finds out that Chestnut has it. He has to perform...

E32

愛吃鬼巧達(第1季第32集)

Mung thinks that Chowder is scatterbrained so he gives him a special type of food called Brain Grub, making him very ...

E35

愛吃鬼巧達(第1季第35集)

When Chowder breaks a part of a machine, Mung Daal sends him out to fetch a new one, but Chowder has trouble remember...

E36

愛吃鬼巧達(第1季第36集)

Mung has to make a dish that requires a fruit that he fears, so he sends Chowder and Shnitzel to get the fruit.

E37

愛吃鬼巧達(第1季第37集)

When Shnitzel feels that he is not getting enough of what he deserves he quites and leaves all of them. Later Shnitze...

E38

愛吃鬼巧達(第1季第38集)

Gazpacho tries to convince Mung to prove that he is right, but Mung refuses, so he restricts everybody from his stand...

E39

愛吃鬼巧達(第1季第39集)

Chowder's hand inflates from misdirections, and it becomes helpful to the city at first, but then it becomes dangerou...