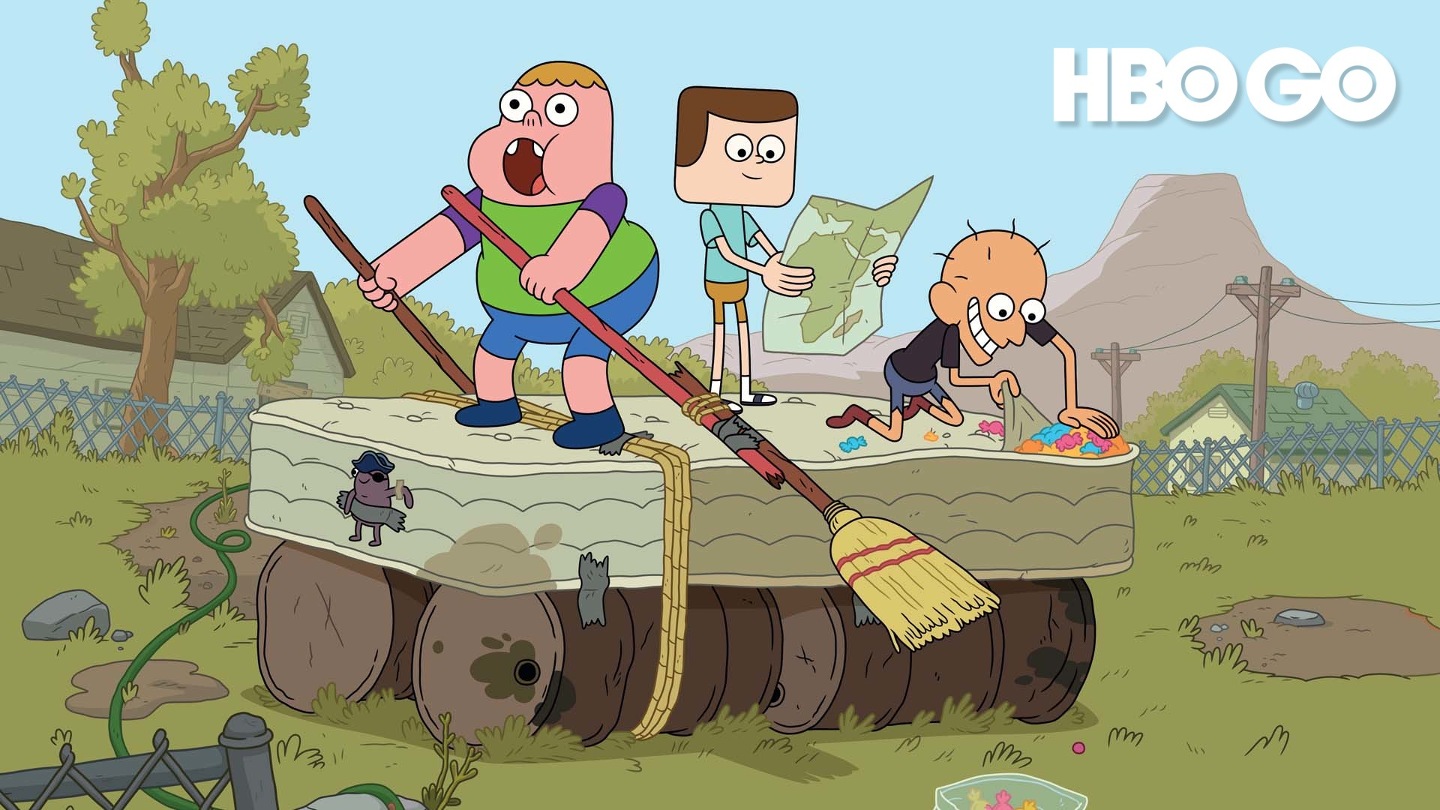 神經大條的阿噗居然跟可愛的愛咪共騎一台單車,去公園探險,尋找漂流巨岩。其他男孩子帶著羨慕又嫉妒的複雜心情,展開一場以松果和青苔為彈藥的攻防戰…
更多
E1

我愛阿噗(第1季第1集)

神經大條的阿噗居然跟可愛的愛咪共騎一台單車,去公園探險,尋找漂流巨岩。其他男孩...

E2

我愛阿噗(第1季第2集)

Can Clarence, Jeff and Sumo manage to have a good time at "Pizza Swamp" Arcade with only one dollar to spend between ...

E3

我愛阿噗(第1季第3集)

Clarence's Mom treats Clarence, Jeff and Sumo to an afternoon at Rough Riders Chicken, a fast food restaurant with a ...

E4

我愛阿噗(第1季第4集)

When Clarence's mom takes Clarence to a stuffy dinner party, Clarence embarks on a quest for fun wherever it can be f...

E5

我愛阿噗(第1季第5集)

When Clarence is asked out on a date by Ashley, a girl in his class, he realizes he doesn't know the first thing abou...

E6

我愛阿噗(第1季第6集)

Belson invites Clarence and friends to a sleepover with a catch: whoever can survive the night's pranks and scares wi...

E7

我愛阿噗(第1季第7集)

Clarence is so troubled by the sight of his teacher in a social setting outside of school, he can't stop himself from...

E8

我愛阿噗(第1季第8集)

During a trip to the supermarket with his Mom, Clarence discovers produce adventure and coupon intrigue in aisle five...

E9

我愛阿噗(第1季第9集)

After Clarence and his indecisive classmate Brady are left behind at school, Brady is forced to tag along on Clarence...

E10

我愛阿噗(第1季第10集)

Clarence creates his own form of currency called "Clarence Dollars." The new reward system promptly turns the entire ...

E11

我愛阿噗(第1季第12集)

Clarence hosts a fun "dollar hunt" game to meet new friends, but things go awry when Clarence accidentally buries the...

E12

我愛阿噗(第1季第13集)

Jeff wants to keep his new, flying "Wrath Hover Ginsbot" toy in its box. Clarence is desperate to play with the toy....

E13

我愛阿噗(第1季第14集)

Seeking to improve his communication skills, Clarence turns to a squeeze horn. It's really annoying.

E14

我愛阿噗(第1季第17集)

A glimpse at the wild, secret adventures Clarence undertakes each day before the rest of us, and the sun, get up! (Wi...

E15

我愛阿噗(第1季第16集)

Clarence and Belson make a true odd couple when they're paired up during a field trip to the zooand find themselves l...

E16

我愛阿噗(第1季第15集)

Clarence's first night home alone spirals out of control, forcing Clarence and his pals to wage war against their own...

E17

我愛阿噗(第1季第18集)

A nap in mud seals Clarence's eyes and leaves him sightless, potentially dooming his team's chances in the school's "...

E18

我愛阿噗(第1季第19集)

Clarence, Sumo and Jeff's nature hike veers off course courtesy of their under-qualified, overwhelmed guide Josh, pro...

E19

我愛阿噗(第1季第21集)

Clarence and Sumo chase a lizard to unexpected rewards as Jeff jockeys for playing time on Belson's spectacular new g...

E20

我愛阿噗(第1季第20集)

Sumo devotes himself to the Sisyphean task of building a boat, defying the expectations of everyone in his life, incl...

E21

我愛阿噗(第1季第22集)

Jeff suffers an identity crisis when a standardized test lands him in the lesser of the classes academic groupings.

E22

我愛阿噗(第1季第23集)

Clarence's innocent attempt to ingratiate Chelsea, a girl, into a boys only tree fort puts Sumo in charge of an effor...

E23

我愛阿噗(第1季第24集)

Clarence, Sumo, and Jeff reminisce about the day they first met - although a few of the details are foggy.

E24

我愛阿噗(第1季第25集)

When a sponsorship of Clarences's school turns into an ominous corporate takeover, Clarence must stand up to the "the...

E25

我愛阿噗(第1季第26集)

Clarence must somehow navigate the mind-numbing boredom of a doctor's office waiting room to earn the ultimate prize ...

E26

我愛阿噗(第1季第27集)

Clarence pays bedridden Belson a visit at the hospital, but what Clarence thinks will cheer him up might actually dri...

E27

我愛阿噗(第1季第28集)

Clarence and Sumo look to throw together some quick cash so they can invest in Chad and Sumo's dad's new "Business ve...

E28

我愛阿噗(第1季第29集)

Clarence buys a goldfish, but when the goldfish bag breaks before he can get home, Clarence must keep his new friend ...

E30

我愛阿噗(第1季第30集)

Clarence and Sumo hit the jackpot when they get suspended for a week, learning all sorts of different facts they'd ne...

E31

我愛阿噗(第1季第31集)

Belson's mom offers their usual maid service to Mary and Clarence. Embarrassed of their messy house, Mary and Clarenc...

E32

我愛阿噗(第1季第32集)

In an escalating series of dares, Clarence eats five hundred hard-boiled eggs, delighting the kids around him.

E33

我愛阿噗(第1季第33集)

While reading a confusing text message in class, Ms. Baker accidentally assigns a weekend project on 'turtle hats', a...

E34

我愛阿噗(第1季第34集)

While at the park, Clarence happily feeds some birds his sandwich, imagining himself as their king. He has a great ti...

E35

我愛阿噗(第1季第35集)

While playing in the woods the boys befriend a wild dog, bring it home and name it Chimney. When the boys find themse...

E36

我愛阿噗(第1季第36集)

Things in the Wendle household are turned upside down when Mary's mom Dyllis comes to visit, butting her way into eve...

E37

我愛阿噗(第1季第37集)

After playing a bit too aggressively with his Lil Buddy doll, Clarence gets timeout and his worst nightmare comes tru...

E38

我愛阿噗(第1季第38集)

It's time for Clarence's first summer job- helping out his mom at HIP CLIPZ SALON SCHOOL, but when a rude custome...

E41

我愛阿噗(第1季第39集)

After Clarence discovers that Mr. Reese falls asleep during detention when given a doughnut, it becomes "the" spot to...

E42

我愛阿噗(第1季第40集)

Clarence and Sumo are excited to play their pirate-themed board game, Thirty Days and Seven Seas, until they learn Je...

E43

我愛阿噗(第1季第41集)

While Clarence spends a lazy Saturday playing an adventure game Dragon's Cusp, Mary asks him to return some mail to a...

E44

我愛阿噗(第1季第42集)

Jeff is all set to go to bed so he can wake up for the early morning meteor shower when Clarence suggests the unthink...

E45

我愛阿噗(第1季第43集)

After Clarence leads a few neighborhood kids through his homemade haunted house, Chelsea suggests they go to the high...

E46

我愛阿噗(第1季第44集)

The trio heads to Squirty's Moist Mountain water park, and as Clarence learns the truth about his idol Squirty, Jeff ...

E47

我愛阿噗(第1季第45集)

Chad takes Clarence out to the woods for some camping in the wild, but Clarence is disappointed at the cosy set up; h...

E48

我愛阿噗(第1季第46集)

Jeff has everything in place for his birthday at Papa Petey's Pins and Pies, but Gilben is also having his party ther...

E49

我愛阿噗(第1季第47集)

An argument between Jeff and Sumo escalates until they vow never to speak to each other. At first Clarence enjoys the...

E50

我愛阿噗(第1季第48集)

While watching a TV show about dreams, Clarence dozes off and enters the whimsical dreamscape that hovers above Aberd...

E51

我愛阿噗(第1季第49集)

Ms. Baker introduces a new student, a short boy with a hook for a hand named Balance. Clarence is delighted to have a...

E52

我愛阿噗(第2季第11集)

After a pit stop bathroom break during a school field trip, Clarence returns to the parking lot and accidentally gets...

E53

我愛阿噗(第1季第11集)

Clarence struggles to make a connection at an all-girls slumber party, leaving Sumo and Jeff at odds without Clarence...